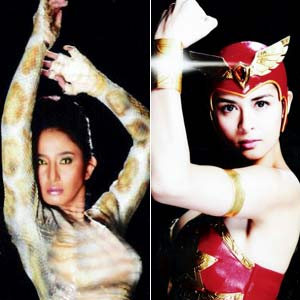 ---
Legendary Pinay superhero Darna will have her hands full starting this month as a new set of villains threaten to test the high-flying heroine's untiring resolve to combat evil and save the town of San Martin.
Leading the pack is Serpina, who will be portrayed by sexy actress Katrina Halili. The child of Kobra and Babaeng Impakta, Serpina aims to fulfill her father's wish to propagate their race. Serpina will eventually fall for Darna's first love Eduardo (Mark Anthony Fernandez), thus intensifying her desire to totally eliminate Narda.
The women of San Martin will be thrilled with the arrival of a handsome foreigner named Vladimir (Akihiro Sato). Unknown to the swooning ladies, Vladimir is a vicious blood-thirsty vampire hungry for innocent people's blood.
Behind Dr. Deborrah's (Rochelle Pangilinan) seeming genuine concern for pregnant women is a ferocious winged monster known as Babaeng Manananggal eager to suck the life out of expectant mothers. Dr. Deborrah also holds a vital secret concerning Ding's (Darna's sidekick) mysterious past.
Helga's (Jackie Rice) angelic beauty has always captivated the entire town. An evil spirit will inhabit Helga's soul and body turning her into a villain notoriously named Babaeng Demonyita.
As if the roster of evil villains were not enough, Darna will meet her most powerful and fiercest nemesis of all: Electra, the Queen of Planet Women (Regine Velasquez). Coming from an alien planet, Electra intends to use her her incredible strength and power to invade the Earth alongside her fierce female legions.
Darna too will have some help in the person of the lighthearted yet principled policeman Pancho (Dennis Trillo) and the mysterious motorcycle-riding vigilante named Black Rider (Mark Anthony Fernandez). Both Pancho and Black Rider are equally determined to win Narda's love and affection.
ADVERTISEMENT - CONTINUE READING BELOW
Watch Marian Rivera as she continues to personify Darna every weeknight on GMA-7's primetime Telebabad block. Darna airs right after 24 Oras.