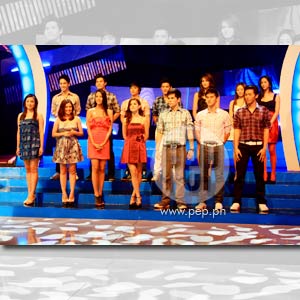 ---
The stage is set to welcome the next batch of celebrity aspirants who are ready to dream, believe, and survive in the fifth season of GMA-7's reality-based artista search, StarStruck. The 14 coveted spots have recently been secured by seven male and seven female celebrity hopefuls.
The Final 14 were introduced and presented to the entertainment press yesterday, November 30, at the GMA Network building. This season's diverse batch was picked from nationwide and worldwide auditions and is touted to be the "best-looking batch" yet.
From 10,000 hopefuls, the list was narrowed down to 14.
Steven Silva, 22, studied to be a chef in the U.S., but ended up being part of the Final 14. A resident of Sacramento, California, he loves soccer, cooking, and singing. He says he makes "really good spaghetti," which he considers his signature dish.
Sef Cadayona, 20, studies in San Beda Alabang and loves to dance. His entertainment icons include James Brown, Michael Jackson, and Fred Astaire. He was labeled as a "triple threat" by some of the male contestants for his talent in acting, singing, and dancing.
During the auditions, Piero Vergara, 16, was seen performing an original song. The musically-inclined young man says he loves everything about music —singing, songwriting, and dancing. He also loves to act. Piero named Frank Sinatra and Michael Buble as his favorite musicians.
German-born Ian Batherson, 20, is determined to work on his Tagalog. His hobbies include playing the guitar and watching movies. During the press conference, he was made to answer the questions in Filipino, an endeavor he struggled with but successfully accomplished.
Enzo Pineda, 19, studies at the University of Asia and the Pacific. His interests include martial arts, soccer, taekwondo and dancing.
Rye Burgos, 20, is a Fil-Am model from Los Angeles, California. He says he loves acting and dancing but only does so in the shower. Rye was also brave enough to take the initiative to answer the first few questions asked by the press.
ADVERTISEMENT - CONTINUE READING BELOW
Rocco Nacino, 22, is a registered nurse from Pasig City. He loves to engage in contact sports, play the drums, and perform in front of the camera.
It was only when she was picked to be part of Starstruck that 18-year-old Diva Montelaba set foot in Manila. A pride of Cebu, she is a tourism student who loves the performing arts.
In 2008, 19-year-old Fianca Cruz was crowned Mutya ng Pasig. A tourism student from Centro Escolar University, she loves to dance and play the guitar. Fianca also tried her luck in Bb. Pilipinas 2009 along with Starstruck alumna Rich Asuncion, but she didn't make the final cut.
Half-Moroccan Sarah Lahbati, 16, loves to sing and watch movies. Sarah mentioned that she used to sing at a church in Geneva, Switzerland where she came from. When her fellow female hopefuls were asked to name the biggest threat in the competition, Sarah took a clean sweep of the votes. Pretty, tall, and talented, she was described as "having it all."
Third time's the charm for 17-year-old Princess Snell, who had previously auditioned twice for StarStruck but wasn't lucky enough to make the cut. A Mass Communication student from Laguna, she was part of rival network ABS-CBN's Star Magic before auditioning for StarStruck.
Rox Montealegre, 19, is a dean's lister in Ateneo de Manila University. She is interested in both the performing arts and the visual arts. She revealed that she would be willing to halt her studies for a career in showbiz.
Soft-spoken Nina Kodaka, 20, hails from Japan and used to work with computers. Nina had also been dubbed as a "crowd favorite" for her petite build matched with an excessively quiet nature, a combination that sparked light-hearted jokes during the press conference.
Twenty-two-year-old Zeryl Lim hails from the Kingdom of Bahrain, where she used to work prior to getting chosen for Starstruck V. Zeryl says she loves watching movies.
ADVERTISEMENT - CONTINUE READING BELOW
A WELCOME CHANGE. GMA-7's Senior Vice-President for Entertainment Wilma Galvante mentioned that several changes were implemented in StarStruck V. Auditions were held not only in the Philippines, but also in countries such as Singapore, Japan, Middle East, and the United States.
The fifth season also tapped a new set of StarStruck Council to provide critiques of the Final 14: director Floy Quintos, actress Iza Calzado, and talent manager Lolit Solis.
In addition, mentors were picked to scrutinize the Final 14: beauty queen Abbygale Arenas (imaging), actress-director Gina Alajar (acting), choreographer Douglas Nieras (dancing), music authority Jai Sabas-Aracama (singing), and makeup maven Barbi Chan (makeup and styling).
The change, however, isn't limited to the council members and mentors. New hosts were also enlisted to give fresh vibes to the show. Former Starstruck host Dingdong Dantes was selected to replace Richard Gomez as host of Family Feud, since the latter plans to run as congressman for Ormoc. Raymond Gutierrez is retained as StarStruck host while Carla Abellana and Dennis Trillo are new additions as well. StarStruck graduates Mark Herras, LJ Reyes, Arci Munoz, and Paolo Avelino also joined the cast as segment hosts.
Unlike previous seasons, Galvante also mentioned that this season will combine both council scores and text votes gathered from across the Philippines and abroad to determine the two ultimate survivors.
StarStruck V airs Saturdays right after Pinoy Records and Sundays after Kap's Amazing Stories, while StarStruck Shout Out airs Mondays to Fridays after Chika Minute Explosive on GMA-7.


CLICK HERE to view photos of the Final 14 contenders of StarStruck V.