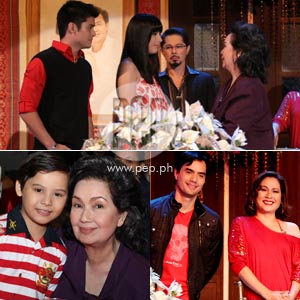 ---
This December, let the true meaning of Christmas shine as GMA-7 presents an inspiring story of love, family and forgiveness. Watch the pilot episode of the Kapuso network's ChristmaSerye titled Sana Ngayong Pasko on Monday, December 7.


The drama series features the country's well-respected artists in the entertainment industry led by the Queen of Philippine Movies Susan Roces, together with Drama King Christopher de Leon, actress-director Gina Alajar and veteran actor Dante Rivero.
Also featured are Eddie Gutierrez, Carmina Villaroel, Jomari Yllana, Zoren Legaspi. Completing the cast are TJ Trinidad, JC De Vera, Maxene Magalona, JC Tiuseco, Ynna Asistio and child star Jacob Rica.
Directed by Mike Tuviera, Sana Ngayong Pasko tells about the ill-fated life of retired teacher Remedios (Susan Roces), who suffers terribly during the onslaught of typhoon Ondoy. With no one to turn to, Remedios yearns for her family she lost several years ago because her husband Pablo (Dante Rivero) wrongfully accused her of having an affair with another man.
As the Christmas season begins, her only dream is to embrace her children and reunite with her family. Moreover, Remedios is running out of time because she is suffering from senile dementia. She needs to show how much she cares for the people she loves and at the same time resolve family issues before her memory fails her completely.
Remedios's son Gordon (Christopher de Leon) is an entrepreneur whose business is in the United States. He is the only successful member of the family. In spite of his success, Gordon has never forgiven his mother for leaving them.
His sister, Fely (Gina Alajar) works as a GRO in Macau. Just like Gordon, Fely also hates her mother for abandoning them on Christmas day. She never forgets the difficulties she had to go through without her mother's love. Stephen (TJ Trinidad), meanwhile, becomes the black sheep of the family. He is a band member turned drug addict. He is separated from his own family but his child Jopet (Jacob Rica) is in his custody. The youngest son of Pablo and Remedios is actually an irresponsible father.
ADVERTISEMENT - CONTINUE READING BELOW

Unknown to Remedios, after Pablo threw her out of the house, he decided to take away all the photos and personal belongings of his wife. He wanted his children to forget their mother; even saying the name of Remedios was not permitted in the house.
After years of anguish and resentment, can Remedios find her way back into the hearts of her family? Is pain too much that reconciliation and forgiveness are too far to reach? How long can Remedios endure her suffering? Will there be enough time for Remedios to fulfill her fervent dream of reuniting with her family?
Ariel Rivera sings the theme song of this ChristmaSerye with the same title. It is included in his album Paskong Walang Katulad under Sony Music Entertainment (Philippines) Inc.
Don't miss the premiere telecast of Sana Ngayong Pasko this Monday, December 7, on GMA Telebabad.