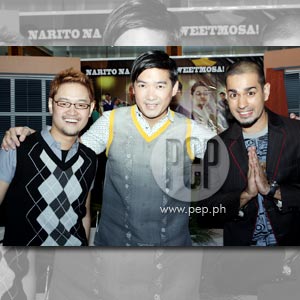 ---
An interesting way of dissecting the hottest and the latest in showbiz will soon hit town, and three showbiz insiders will be on top of each episode to make sure everyone is well guided in the "bizniz of chizmiz."
Enter Tweetbiz, Q Channel 11's newest showbiz talk show, which will premiere on Monday, December 7. At the forefront are showbiz insiders Tim Yap, Mr. Fu, and Sam Y.G. as Shivaker, the Love Guru.
Unlike other showbiz talk shows, Tweetbiz will allow viewers to have a different look at entertainment news by showing them how a story pitch is done. On each episode, Tweetbiz's paparazzi will present to the three "editors," Tim, Mr. Fu, and Sam Y.G., showbiz scoops backed up by video clips, on-cam interviews, and photos.
The paparazzi, composed of Survivor Palau's Justine Ferrer and Suzuki Sadatsugu, Gorgy Rula, Ron Carrasco, Dansen Santos, and Sebastian will be divided into three teams: Team Yap, Fu Crew, and Shivaker Squad.
The three will then evaluate each showbiz tidbit if they pass the grade on being the most interesting, intriguing, amusing, shocking, or just plain gossipy. They will help develop or rip apart each story with the help of the other cast members. A successful pitch will mean that the story will have a prominent place in the show's daily online Tweetbiz section on Q Channel 11's website, WMN.ph.
"Hosting Tweetbiz feels more like my work in the newspaper as editor and creative director," shared Tim Yap, who recently won as Best Lifestyle Show Host for PMPC Star Awards for Television, when asked how his hosting stint in Tweetbiz differs from his other showbiz and media activities.
Tim explained, "It's like being in the newsroom, only this time with five TV cameras! I'm in charge of brainstorming thoughts, ideas, and concepts with a group of dynamic, passionate, story and empowerment-driven writers, all of whom know their responsibility to inform, educate, and entertain."
ADVERTISEMENT - CONTINUE READING BELOW
On working with Tim and Sam Y.G., radio talk program host Mr. Fu said that "It's like a nose-bleed exercise! Inglesan nang Inglesan! We have different personalities but we blend. Having the three of us and a group of tweetmosas in one show can be full of surprises. 'O, ha! May gano'n?!'"
Radio DJ Sam Y.G., who also plays the role of Shivaker in some GMA-7 shows, answered "Straight showbiz news without the frills," when asked what the viewers can expect from Tweetbiz.


"Tweetbiz brings issues down to a more personal level by looking at them from different points of view. The fresh, raw, and unadulterated feel of the show will definitely be something to look out for as we take the viewers 'behind the scenes' of an editor's boardroom."
Watch out as Tim Yap, Mr. Fu, and Sam Y.G. roll out the first batch of showbiz stories on Tweetbiz—the Bizniz of Chizmiz—this Monday, December 7. Tweetbiz will air from Monday to Friday, 7:00 p.m, only on Q Channel 11.