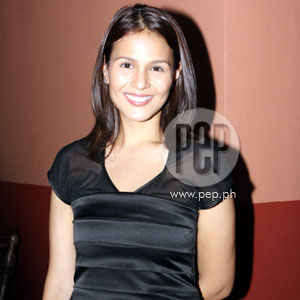 ---


After airing for over two months on GMA-7's Dramarama sa Hapon, Kaya Kong Abutin sa Langit has been extended until January 2010. This Iza Calzado-starrer aired its pilot episode last September 24, 2009.

All of Clarissa Rosales'/Clarisse Gardamonte's dreams fall apart as fate gives the life of the haughty, self-centered woman a sudden twist in GMA-7's top-rating daytime soap opera, Sine Novela presents Kaya Kong Abutin Ang Langit.

Portrayed by Iza Calzado, the ambitious Clarissa, who only thought of wealth, power and prominence since she was a kid, unintentionally alienates her loved ones while enjoying a comfortable life. In spite of all her claims that everything she does is for their family, her sister Nancy Rosales-Rodriguez (Angelika dela Cruz) derides her for her greed.

Clarissa sides with her well-off adoptive parents, Ralph Gardamonte (Ricardo Cepeda) and Monina Arnaldo-Gardamonte (Pinky Amador) regarding the suit filed by her biological mother, Naty Rosales (Lani Mercado). Naty accused the couple of killing her husband. The rift between the sisters widens when Clarissa is out of reach after their mother's death.

Clarissa's boyfriend, Daryl Revilla (Wendell Ramos), felt betrayed when she chose her adoptive parents over him when the Gardamontes discovered their secret relationship. Daryl is the former boyfriend of the late Therese Gardamonte (Isable Oli), who is Clarissa's godsister.

Clarissa, though in pain, continues to live with arrogance. And now the wheel of fate is taking her to the bottom.

"My character is good, very good," says Iza, when asked by PEP (Philippine Entertainment Portal) about her character's run in the story during a lunch press conference at Café Via Mare in Tomas Morato, Quezon City over the weekend. "Kasi parang biglang nagkaroon ng shape, a totally unexpected twist in the story. Of course, we wanna stretch it out and make it more exciting for the viewers."
ADVERTISEMENT - CONTINUE READING BELOW

The afternoon soap, a remake of the hit drama '80s film, which starred Maricel Soriano, Gina Alajar, and William Martinez, has been extended until January 2010.

Iza points out: "The ambitious Clarissa is going back to basics because everything that she worked hard for will be stripped off. So, that's the price for her to pay kasi, di ba, she was too ambitious to a fault kasi."

Clarissa was disowned by the Gardamontes after she was incriminated in the murder of Therese. She sought Daryl's help but failed. Meanwhile, Ralph discovered and managed to gather proof that Nancy is his daughter by Naty. And then Nick Arnaldo (Bobby Andrews), the man who abused Clarissa and whom she and Daryl had tried to kill, is back to avenge himself.

With her sudden fall, Clarissa realizes there is nobody to catch her, until she accidentally reconnects with Jerome Recto (Victor Aliwalas), who has been in love with her since they met and now seems to be her savior ever since she accepted his marriage proposal. But Clarissa's only hope is shattered when she finds out that she is pregnant.

"Now, ang maganda niyan, makakasama ni Clarissa yung audience sa pagbangon niya. Yun yung maganda roon, that's how I see it. At makikita niyo rin kung ano yung surprises namin. Ang ganda nung biglang naging twist, e, the ironies of life. Meron kang yung, 'Kita mo nga naman!'" declares Iza, as she invites viewers to continue watching her show as the plot thickens.

Sine Novela presents Kaya Kong Abutin ang Langit airs right after Daisy Siete on GMA-7's Dramarama sa Hapon.