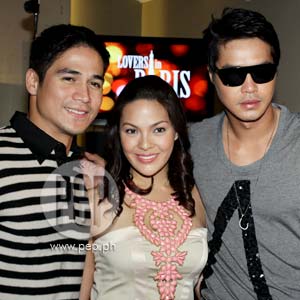 ---
A wedding scene shot in Tagaytay Highlands and a death scene are just some of the noteworthy sequences that avid viewers of Lovers in Paris can look forward to during the last week of this ABS-CBN remake.

After a three-month run, the program is set to air its final telecast this Friday, December 11, 2009.

In the Philippine remake of the 2004 Koreanovela hit Lovers In Paris, Vivian Vizcarra and Carlo Aranaz, played respectively by KC Concepcion and Piolo Pascual, continue to embark on a difficult journey towards proving themselves worthy of the love they found in one of the most romantic cities in the world.

However, Martin Aranaz Barrameda, played by Zanjoe Marudo, also remains determined to prove them wrong. Whose love will come out victorious? Who would have to let love go? The verdict is in, but the revelation is yet to unfold. Will it be a happy ending? If it is, whose happy ending will it be?

According to the show's director FM "Erick" Reyes, he was curious why the original Korean series used the melancholic "Moon River" as its theme song.

"When I redirected Lovers in Paris, I was thinking, 'why did they use 'Moon River' as a theme song when it is a very, very sad love song. Tragic siya. Then I realized, they met at the most romantic part of the world at the worst situation—sinasaktan nila ang isa't isa. Then they went back to the Philippines, they went to Tondo. It might look like it's the worst place but it's where they found love. Love doesn't have to happen in the most romantic place in the world. Love can bloom whether you're in Pasig, Pasay or Tondo...it will always flourish," says Direk Erick.

This is Zanjoe's first dramatic vehicle in the Primetime Bida spot of ABS-CBN while it is KC's first venture into the realm of television series and her first team-up with teleserye veteran Piolo Pascual.

During the last taping day of Lovers in Paris, KC was seen crying on the set. During the presscon, she explained, "Siyempre, I don't know when I'm doing my next teleserye. Sobrang na-enjoy ko yung process. Personally and professionally, marami talaga kong pinagdaanan as Vivian and KC. This is the longest I've worked on a project sa buong buhay ko. Akala matagal na yung teatro na apat na buwan kayong magkakasama. Pag teleserye pala, you don't know how close you get to people."

For his part, Piolo expressed his happiness for being given the honor of being KC's first leading man. "Siyempre, I'm sad, mahirap talaga gumawa ka ng kuwento na alam mong may pagtatapos. Especially pag nakabuo ka na ng friendship and new relationships along the way. I'm privileged na nakatrabaho ko si KC sa first soap opera niya. We're proud that she lived up to the expectations of everyone. We're happy that we have somebody like her in showbiz. She's a rare find."

Zanjoe even quipped, "The best na na-experience ko, na maging Martin, na malayo naman sa [totoong buhay] pero at least, naramdaman ko ang ganung buhay. Ang importante sa lahat, na-experience ko na maging kapatid ni Piolo kaya ibig sabihin, hindi kami nagkakalayo ng itsura."

Lovers In Paris airs weeknights right after May Bukas Pa on ABS-CBN.

CLICK HERE to watch the PEParazzi video showing Piolo revealing his "relationship" with KC.
ADVERTISEMENT - CONTINUE READING BELOW
SHARE THIS STORY " data-url="https://www.pep.ph/guide/tv/5232/piolo-pascual-on-kc-concepcion-she39s-a-rare-find" data-desc=""Lovers in Paris" will end on December 11, 2009." data-image="https://contents.pep.ph/images2/guide/5c7bab960.jpg"> " data-url="https://www.pep.ph/guide/tv/5232/piolo-pascual-on-kc-concepcion-she39s-a-rare-find" data-desc=""Lovers in Paris" will end on December 11, 2009." data-image="https://contents.pep.ph/images2/guide/5c7bab960.jpg"> " data-url="https://www.pep.ph/guide/tv/5232/piolo-pascual-on-kc-concepcion-she39s-a-rare-find" data-desc=""Lovers in Paris" will end on December 11, 2009." data-image="https://contents.pep.ph/images2/guide/5c7bab960.jpg">
SHARE THIS STORY
" data-url="https://www.pep.ph/guide/tv/5232/piolo-pascual-on-kc-concepcion-she39s-a-rare-find" data-desc=""Lovers in Paris" will end on December 11, 2009." data-image="https://contents.pep.ph/images2/guide/5c7bab960.jpg"> " data-url="https://www.pep.ph/guide/tv/5232/piolo-pascual-on-kc-concepcion-she39s-a-rare-find" data-desc=""Lovers in Paris" will end on December 11, 2009." data-image="https://contents.pep.ph/images2/guide/5c7bab960.jpg"> " data-url="https://www.pep.ph/guide/tv/5232/piolo-pascual-on-kc-concepcion-she39s-a-rare-find" data-desc=""Lovers in Paris" will end on December 11, 2009." data-image="https://contents.pep.ph/images2/guide/5c7bab960.jpg"> " data-url="https://www.pep.ph/guide/tv/5232/piolo-pascual-on-kc-concepcion-she39s-a-rare-find" data-desc=""Lovers in Paris" will end on December 11, 2009." data-image="https://contents.pep.ph/images2/guide/5c7bab960.jpg">