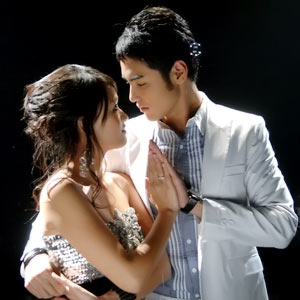 ---
The romantic-comedy Fated to Love You is set to conquer hearts once more, beginning Monday, December 14, but this time, on GMA-7's morning block.

With an average rating of 26.2%, audiences were hooked with this unconventional tale which started from an accidental one-night stand between Taiwan's popular star Jo Chen as Cindy and the adorably sexy Ethan Ruan as Steven.

These two bizarre romantics are desperate to marry their individual partners. To do so, Cindy plans to give away her virginity to her boyfriend Richie while Steven plans a heart-melting proposal for Anna. But then, fate had other plans.

Deserted by their partners in the cruise, Cindy took up cold medicine which made her drowsy while Steven unmindfully consumed a drink filled with drugs. The disoriented Steven went back to his room and found the tipsy Cindy there. They do the deed and before long found out that Cindy got pregnant! The situation becomes even more complicated when Steven's powerful grandmother forces him to marry Cindy.

Will two people forced into marriage find love for each other? Will their mistake feel right at the end?

Catch Fated to Love You...Again on Monday, December 14, before Eat Bulaga on GMA-7.