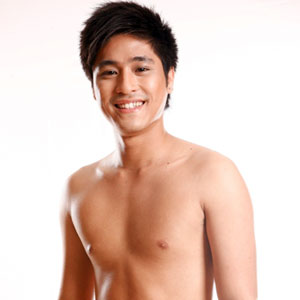 ---
At the start of the 8th Nomination Night last December 12, Big Brother announced that there would be a "Head of Household" game and that there would be a twist in the nomination.


The housemates had to play a "Wire Game Challenge" wherein he/she is required to swiftly glide a ring through a metal obstacle line without allowing the two objects to come into contact. Once the two objects touch, a buzzer sounds off and all the housemates will feel an electric jolt surging through them. Paul Jake Castillo bags the "Head of the Household" title with his final score of 17 feet and 4 inches while Carol Batay finished last, and as a consequence, she must reveal the person whom she wants to evict.


The Conservative Pharmacist ng Tondo cried profusely as she wrote a number 3 on Hermes Bautista's forehead, indicating that he had an automatic three votes for eviction.


Big Brother added yet another twist when he announced that all the housemates had a time limit of 15 minutes to finish their nomination. This was to encourage the housemates to make decisions under pressure. Fortunately, the housemates managed their time well and were able to beat the time limit.
Four nominees for eviction have one week to prove that they are worthy to remain in PBB Double Up. Sam Pinto and Carol were tied with five points each. Carol was deemed a liability in terms of physical challenges, which landed her a spot on the list. Sam was nominated because her silence made her difficult to live with. Patrick Villanueva was given six votes, with the reasons ranging from him missing his family to his lack of depth and joy in relating to others. He asked for support from his family and friends, claiming it as an early Christmas gift. Hermes topped the list with seven points, primarily because of Carol's initial votes and also because he was viewed as a strong contender.
ADVERTISEMENT - CONTINUE READING BELOW
As the first Head of Household (HOH) this season, Paul Jake is automatically saved from nomination. He is also free to take a bath anytime and he was also allowed to send one text message to someone and he opted to text his girlfriend Denise. For the last reward, he received a pizza and a burger that he could share with one housemate and he chose Jason Francisco.
After the stormy surprises that left them shaken, the housemates were given a treat. Paul Jake, Johan Santos, Jason, Tibo Jumalon, Kath Lopeña, Sam and Mariel Sorino were all treated to a full line-up of spa services. Not only were they pampered, but they were also serenaded by the lovely voice of Selena. She capped Tibo's evening with a kiss, which prompted the others to tease him.
Planning for Sam's birthday celebration gave the housemates another reason to work together. Rica spearheaded the plans, wanting to give Sam a birthday that she would not normally get from others. They decided to present a spoof of her life, and sneaked off on their free time to practice their parts.


Sam celebrated her 20th birthday via a Hawaiian-themed party. The housemate had a blast, including Rica who seemed to have become drunk and was seen rolling on the floor. After the non-stop dancing and drinking, the sober Rica began crying to express her longing for her boyfriend who is in the outside world.


PBB Double Up host Toni Gonzaga interviewed Sam and the Fab Fashionista ng Parañaque shared that she enjoyed her birthday surprise and felt at home with her fellow housemates.
Sam may have started out as a pretty face that silently blends in the background, but she has now begun to be more willing to put her two cents in. She narrated details about her modeling: how she started and why she does it. The others girls followed suit, sharing anecdotes about their personal lives. Melay's one-liners fired them all up and had them chanting "Boys are toys" at the top of their lungs. When the laughter died down, they reverted to their favorite pastime of making up spiels for their fictional product endorsements.
ADVERTISEMENT - CONTINUE READING BELOW
The Bagyong Issa ended with the two houses being as one. The competition can go both ways, and only time will tell if the situation will bond them or induce a "survival of the fittest" mentality. PBB Double Up now employs the SAVE/EVICT voting system, where the final tally will subtract the percentage of Votes to Evict from the percentage of Votes to Save.


For the latest updates, don't miss Uber with Mariel Rodriguez, PBB Double Up with Toni Gonzaga, and PBB Double Uplate with Bianca Gonzalez. Also catch the 24/7 live streaming at Skycable Ch. 150.