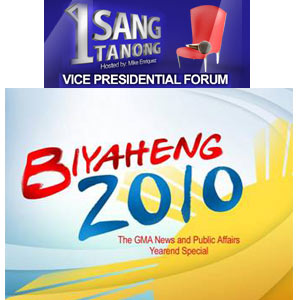 ---
Q Channel 11 is all set to welcome the new year with no less than a "Perfect 10 on 2010"!

On January 3, viewers can look back at the year that was and go over 2009's noteworthy moments through Biyaheng 2010 - The GMA News and Public Affairs Year-end Special. Hosted by veteran broadcast journalists Jessica Soho and Arnold Clavio, GMA-7's year-ender special reviews the past twelve months to give viewers a better idea on what to expect on 2010.
Hawthorne--Jada Pinkett Smith's new medical drama--breaks through Philippine television amid much anticipation. Here, Smith shows off her acting aptitude by adapting her celebrated skills in the big screen to shine in the small screen.
The epic saga that blew Oscar records is now on Q Channel 11. Chick Flicks presents a grand tale of heroism, friendship, and hope through the Lord of the Rings on January 10 and 17, at 8:30 pm.
American Idol Season 9 has arrived! With new rules, new twists, and a new judge to spice up what has been hailed as "the most important musical mechanism of the decade," the new season of AI is bound to be more exciting than ever. Join Simon Cowell, Randy Jackson, Kara DioGuardi, and new judge Ellen Degeneres as they search for the next idol to win the hearts of millions all over the world. Watch the two-part season premiere on January 13 and 14.
Enjoy meaningful stories perfect for the times through True Stories on January 17, hosted by broadcast journalist Vicky Morales. Identify with stories of love, sacrifice, and beauty despite adversity that are sure to inspire one for the rest of the year.
Put on that detective hat and gather courage as Q Channel 11 tries to shed light on unsolved mysteries and unanswered question on Misteryo. Hoax versus true paranormal events; urban myths versus grains of truth--a hair-raising journey is definitely in store for viewers.
ADVERTISEMENT - CONTINUE READING BELOW
With an upcoming national election in a few months, Q Channel 11 believes that the informed Filipino is a powerful force for national change. Isang Tanong - The GMA News and Public Affairs Vice Presidential Forum aims to lay out what our aspiring leaders are really made of by asking them the most relevant and most incisive question they need to answer. Backed by GMA-7's news and public affairs pillars and some of the most respected and trusted personalities in the country, no one should miss Isang Tanong on January 17.
Aside from the impressive line-up of specials and new shows, Q Channel 11 also delivers a look back at the episodes viewers loved the most in 2009. Viewers will have the chance to enjoy the best episodes of The Sweet Life with hosts Lucy Torres-Gomez and Wilma Doesn't, and Full Time Moms with Suzi Entrata-Abrera and Christine Jacob-Sandejas, this January. And, Chef Aileen Anastacio enters the second season of My Favorite Recipes with a new list of classic favorites made more enticing with exciting twists.

With noteworthy specials and the chance to revisit old favorites, Q Channel 11 delivers a "Perfect 10" to start 2010. Catch all these and more this January only on Q Channel 11.