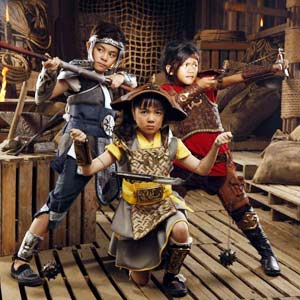 ---
Armed with their sheer determination and unshakable spirit, the three Panday Kids undergo extensive training as they gear up for their high flying adventures in Carlo J. Caparas' telefantasya on GMA-7's Telebabad this week.
Aureus (JC de Vera) trains the three kids in combat. Oliver (Buboy Villar) and Hadji (Julian Trono) face off in various challenges and both display good fighting skills and speed.
Hadji terribly misses Wendy (Nikki Samonte) and swears he will look for her once he's ready to be a Panday Kid. Aside from keeping her secret identity hidden from Oliver and Hadji, Charlie (Sabrina Man) is afraid that they will laugh at her horns. Rossana (Gelli de Belen) feels guilty of being a bad mother to Oliver.
Meanwhile, Lizardo (Marvin Agustin) learns from Wadi (Arci Muñoz) that the Panday sword will send three heroes who will defeat and end his power. He sends his black bird Kakak to the mortal world to find Maria Makiling.
Ola (Jolina Magdangal) tells Maria Makiling her visions of Lizardo. Kakak transforms into a man and named himself Oswaldo (Akihiro Sato).
How will the three kids fare in their succeeding challenges? Will Rossana's heart finally soften and accept Oliver as her son? How will Oswaldo's character affect Ola's life? Will Charlie's horns disappear? How will Hadji rescue his bestfriend Wendy?
Panday Kids has made primetime viewing on GMA-7 more educational, interesting and informative with its family-friendly theme that promotes traditional values. More revelations, conflicts and plot twists will be revealed as the powers and weapons of Oliver, Hadji and Charlie level up.
ADVERTISEMENT - CONTINUE READING BELOW
Panday Kids airs weeknights after 24 Oras on GMA Telebabad.