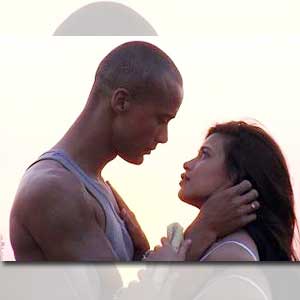 ---
Is there a chance of true love for a partnership that started with intimidation, force and hatred?

This is the big question set to be resolved by Roxanne (Denise Laurel) and Alex (Will Devaughn) in this week's grand finale of the well-loved Precious Hearts Romances Presents Quikilig: You're Mine, Only Mine.

In a recent interview, lead actress Denise Laurel said that she and the whole cast of PHR are happy with the public's positive response towards their show. "At first a lot of people were saying 'what an odd couple!' But now, they're in love with Alex and Rox. I'm so glad that our hard work was seen. I'll miss hanging out with all the production and crew, and of course, with Will." Denise further shared that the support to their show has even reached her Twitter account. "My Twitter followers doubled! They all love the show and don't want it to end. This show is so bitin."
Like his leading lady, Will Devaughn is also elated with the feedback he has been receiving since their PHR started. "Natuwa ako sa mga reaction dahil marami ang nagsabi sa akin na iba siya compared to the rest of the PHR books." The hunky actor added, "When I see people sa mall, sinasabi nila, 'Will, ang sungit mo dun sa Precious Hearts ha! Pero ang galing mo diyan.'"
As the story continues, Will Alex's business proposition ends up with a wedding proposal to Roxanne? What secrets from Alex's past will convince Rox of Alex's true feelings for her? Will Rox keep her promise to her Tita Pilar in saving the pinyahan and provide them a better future? After all the terrible confrontations and unpleasant happenings, is there any hope for Rox and Alex to end up with each other?
ADVERTISEMENT - CONTINUE READING BELOW
When asked about the ending of their mini-series, Will just disclosed an intriguing reply, "I can say that the ending will shock and surprise everyone in a jaw dropping way. Alex always has had a hidden agenda but there was a heartfelt reason in his doing so. Can you guess his hidden agenda? Watch and see!"
Watch out for the mini-series' exciting finale this Friday (March 12), 5:20 pm, after Banana Split Daily Servings on ABS-CBN. Under the direction of Jerry-Lopez Sineneng, You're Mine, Only Mine also stars Jairus Aquino, Victor Basa, Regine Angeles, Alwyn Uytingco, Rey PJ Abellana, Johnny Revilla, Tanya Garcia and Susan Africa.
After You're Mine, Only Mine, viewers can look forward to the newest offering of PHR presents Quikilig: Lumang Piso para sa Puso. Don't fail to watch the first ever PHR of real-life sweethearts Oyo Sotto and Kristine Hermosa this coming Monday (March 15). Discover how a treasured antique coin connects two hearts that are bound to find a special "treasure" meant for each other.