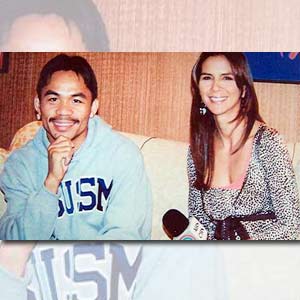 ---
Is the pound-for-pound boxing king Manny Pacquiao ready to leave his throne?
After the fight of the Filipino boxing champ with Ghana challenger Joshua Clottey last Sunday, March 14, rumors about Manny Pacquiao's retirement from boxing are spreading again among his fans.
This Tuesday (March 16) on The Correspondents, Pacquiao will set the record straight in an interview with ABS-CBN senior sports correspondent Dyan Castillejo. Find out as well how the boxing champ's career started and how he prepared for each of his 56 fights.
In 2007, Pacquiao earned an estimated $20 million or 920 million pesos. He doubled this amount last year, according to Forbes Magazine. In the Pacquiao-Clottey fight, Manny reportedly received as much as $12 million.
Manny is also known to share his fortune with the people of his hometown, General Santos City, showing that he has not forgotten his roots.
Dyan Castillejo unravels the story behind Pacman's successful boxing career and reports from behind-the-scenes of the Pacquiao-Clottey fight this Tuesday (March 16) on The Correspondents, right after Bandila on ABS-CBN.