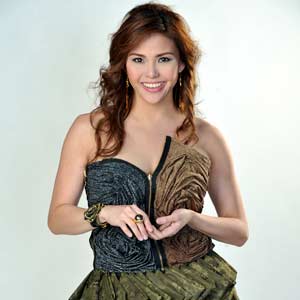 ---
Viewers will soon be updated about the latest sports and showbiz news here and around the world in Studio 23's newest primetime offering The Wrap.
Watch anchor Gretchen Fullido as she provides a 15-minute rundown of what's new and what's happening in the local and international sports and entertainment fronts plus all the stuff you want to know about your favorite stars and athletes.
The Wrap also features the latest on music realm, the juiciest blind items, and even the freshest and most talked about tweets of famous personalities and celebrities. Don't miss it everyday at 7:45 PM.
Meanwhile, the public affairs program Y-Speak hosted by Bianca Gonzalez also looks into the world of Twitter this Saturday (March 20), 7 PM. Learn why young people are so addicted with this social networking site and how their generation can voice out their thoughts in 140 characters or less.
From local programming, Studio 23 offers you must see marathons of your favorite foreign programs in time for the Holy Week.
Catch the fourth season marathon of action suspense series Lost on Maundy Thursday (April 1), third season marathon of mystery thriller Ghost Whisperer on Good Friday (April 2), and the third season marathon of family drama Brothers and Sisters on Black Saturday (April 3) all beginning 10 AM.
As the Lenten season comes to an end, welcome the sizzling summer fever with your Kabarkada Network as it serves the newest seasons of 90210 and CSI fresh of the grill this April.
The teens of Beverly Hills toast to new beginnings in the second season premiere of 90210 on April 9 (Friday), 7 PM. Frenemies Naomi and Silver are reunited along with baby-free Adrianna, while Annie continues to dwell on her loser status after what happened in last year's after prom festivities. Liam is determined to win Naomi back but a new guy in town seems to be getting his ex-girlfriends attention.
ADVERTISEMENT - CONTINUE READING BELOW
An end of a colleague's life, on the other hand, welcomes the ninth season premiere of CSI this Sunday (April 18) as Warrick Brown got shot and killed in Las Vegas. The whole CSI team was devastated but little did they know that the killer is one of them.
Don't miss all these only from Studio 23.