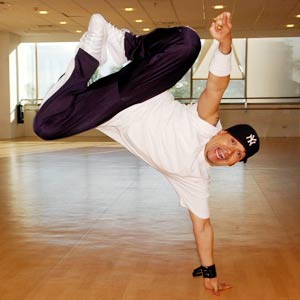 ---
Party Pilipinas, the much-awaited Sunday musical/ variety program of GMA-7 is set to premiere this March 28. It will tap the expertise of world-class choreographer Ruben Monet Ludlow popularly known as Fusion.
Fusion, who arrived in Manila last March 17, feels elated being a part of the Kapuso Network and is greatly enjoying his time leading the dance workshops for the artists and various dance crews of Party Pilipinas.

"I'm happy being part of GMA family... and I'm looking forward to growing and learning a lot from my colleagues here," said Fusion, who is a friend of the country's legendary choreographer Geleen Eugenio. He is expected to stay in the Philippines for about a month to choreograph the production numbers in the new GMA-7 show that replaced SOP.
The half-Mexican, half-American choreographer revealed that he started dancing hiphop when he was 17 years old. Just like the young members of the GMA Dance Crew and some Kapuso artists he met a day after he arrived, Fusion then was just "dancing freestyle and dancing for fun" when people told him he should pursue a professional career.
The 30-year-old choreographer followed this advice and went to Hollywood where his first break was to perform with Will Smith in the music video of the blockbuster movie Men in Black.

Since then, Fusion's unique dance style and powerful stage performance has made a mark in Hollywood that prompted music icons to request him to perform, choreograph and even tour with them. Among these celebrities are Madonna, Beyonce Knowles, Akon, Diana Ross, Backstreet Boys, NSYNC, SisQo, Missy Elliott, Puff Diddy, Lil Kim, Justin Timberlake and Ludacris.
ADVERTISEMENT - CONTINUE READING BELOW
Fusion is known in Hollywood as "Diddy of the Dance World" and "Grand Master Choreographer." Aside from these titles, Fusion is also known as the founder of Kung Fu Hiphop, a dance craze loaded with the combined dynamic movements of hiphop, martial arts and wushu.
Aside from being a dancer/choreographer, Fusion is also a hiphop teacher and a businessman. Armed with experiences, Fusion taught in several performing arts schools in California. And in 2000, while he was on tour with NSYNC, SisQo and Pink, he created a talent management that will help bring great dancers in the United States called Rising Moment.
The name of his business, Rising Moment, was derived from his former dance group in San Diego called STORM (Striving Toward Our Rising Moment). Fusion said STORM was the first to perform the hiphop dancestyle now presently utilized by Jabbawockeez, a male dance troupe from San Diego, but without masks.

Despite his success and achievements, Fusion remains warm, humble and accommodating to all the people he encounter. He quips, "I'm very excited to be back here in Manila. And, yes its great being here with everyone telling you're so famous. I love that. But many times I don't forget I'm just Ruben, a regular guy living his dreams, doing his best every day that he can."
Watch the world class performances of Fusion together with Kapuso stars in Party Pilipinas beginning March 28 on GMA-7.