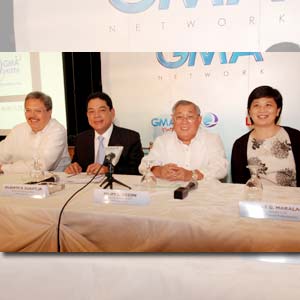 ---
GMA-7 executives consider the year 2009 as a banner year for the Kapuso network. According to a report furnished to PEP, the TV network hit a consolidated net income of P2.818 billion, 19 percent higher than the P2.369 billion profit it recorded in 2008.
The report says that the Kapuso network benefited largely from its "yearlong proactive performance to contest the global financial slowdown, and from its continued operational efficiencies."
FINANCIAL ACHIEVEMENTS. During the 2009 Yearend Performance Briefing held earlier today, March 25, at the GMA Network Center in Quezon City, the following were achieved in 2009:
Consolidated revenues for the twelve-month period reached a record-high of P13.771 billion, up 10 percent from the P12.497 billion grossed in 2008.
Consolidated operating expenses were kept to a single-digit growth of 9 percent to P7.842 billion, much of which was accounted for by increases in the company's manpower count alongside the payout of more extensive benefits for Network employees.
GMA-7 released a P90,000 to P100,000 appreciation bonus to all its regular employees in compliance with the Collective Bargaining Agreement (CBA) signed by the management and employees' union in 2009.
Earnings before interest, taxes, depreciation, and amortization (EBITDA) stood at P4.889 billion, or a 10 percent jump from the previous year's P4.444 billion.
Total assets went up by 10 percent to P13.763 billion, while total liabilities increased by 6 percent to P2.883 billion.
GMA Network chairman, president, and CEO Atty. Felipe L. Gozon expressed satisfaction over the company's performance despite the global financial crisis and the decrease in total adspend.
"I am glad that the network was able to surpass its targets despite a difficult year. We expect 2010 to be an even better year for the company as we continue to be more cost-efficient, embark on strategic sales and marketing operations, and with the global economy starting to recover," Gozon said.
TARGETING OVERSEAS VIEWERS. Meanwhile, GMA-7 remained aggressive in its international operations to expand its reach to more viewers abroad.

By the end of 2009, GMA Pinoy TV (GPTV) registered a subscriber count of 236,000, an increase of 16 percent year-on-year. Of this number, 107,000 were also subscribers of GMA's second international channel called GMA Life TV (GLTV). GLTV's subscriber count was up by 141 percent versus 2008. The report from GMA-7's Corporate Communications department indicates that subscriber counts are equivalent to 1.5 million and 700,000 viewers for GPTV and GLTV, respectively.


Both GPTV and GLTV have reportedly penetrated markets in the U.S., Canada, Europe, Middle East, North Africa, Australia, New Zealand, Japan, Guam, Papua New Guinea, Singapore, Hong Kong, and many other territories.
ADVERTISEMENT - CONTINUE READING BELOW
In 2009, international business generated revenues amounting to P855 million, a 45 percent growth over revenues in 2008. From the said amount, GMA International made a 15.9 percentage share in the parent Company's bottom line.
On the other hand, GMA Network's distribution subsidiary, GMA Worldwide, Inc. (GWI), has syndicated locally produced programs for Africa, the Middle East, and North America. GWI has also distributed several GMA-7 dramas and films to Malaysia, Singapore, Cambodia, Brunei, and Vietnam.
The local version of the Mexican telenovela Marimar starring Marian Rivera is now available with English dubbing in Kenya and Uganda. Another Marian Rivera-starrer, the fantasy series Dyesebel, is available in Cambodia; while lifestyle shows from Q Channel 11 that include Secrets of the Masters, House Life, Fit & Fab, and Living It Up are now available on board several airlines.

Locally, the Kapuso network continued to expand its presence in key provinces nationwide. In 2009, the network completed and operationalized its four new satellite stations based in Naga, Bacolod, Cagayan de Oro, and General Santos. These stations are capable of independent content play-out and complement the existing originating stations—GMA Channel 10 Dagupan, GMA Channel 7 Cebu, GMA Channel 6 Iloilo, and GMA Channel 5 Davao.
GMA-7 likewise made its programming content geo-targeted through the upgrade of transmitter facilities in Santiago (Isabela), Roxas, Dipolog, San Jose (Minodoro), Kalibo, Virac, Ormoc, Tagbilaran, Tacloban, and Ozamis, and the construction of new TV stations in Jala-Jala (Rizal) and in Mt. Caniao, Bantay (Ilocos Sur).
RATINGS. In TV ratings, GMA Network kept its strong hold in viewer-rich Mega Manila from January to December 2009, according to data from AGB Nielsen Philippines, a widely recognized TV ratings data supplier in the country.
ADVERTISEMENT - CONTINUE READING BELOW
Based on AGB Nielsen data, GMA-7 posted an average total day (6 am - 12 mn) audience share of 40 percent from January to December 2009. This figure is reportedly 8 percentage points higher than ABS-CBN's 32 percent. For channel ratings, GMA-7 averaged 17 percent, and led competition's 13.7 points by 3.3 percent.
From the same period, GMA-7 had 23 (including specials) entries in the list of overall top 30 programs in Mega Manila. Boxing specials featuring the bouts of the world's best pound-for-pound fighter Manny Pacquiao—such as Firepower (where he won over Miguel Cotto) and The Battle of the East and the West (where he won over Ricky Hatton)—took the top two slots, respectively.
Without specials, 21 GMA shows made it to the overall top 30 programs list in Mega Manila, with the top 8 spots occupied by Kapuso programs, namely, Darna, Luna Mystika, Zorro, Totoy Bato, Lalola, Stairway to Heaven, 24 Oras, and Gagambino.
Among regular shows, the primetime hit Darna, which starred Marian Rivera came first with 35.5 rating points, while competition's May Bukas Pa ranked behind by 8 rating points. In the primetime block, GMA-7 had 15 out of the top 20 most watched shows during the period. Shows from the Kapuso Network also occupied the first eight spots in the listing.
In daytime, GMA-7 got 14 slots in the list of overall top 20 programs. The team up of Kris Bernal and Aljur Abrenica in Dapat Ka Bang Mahalin? recorded the highest rating of 26 points.
Meanwhile, the country's longest-running noontime show, Eat Bulaga, which celebrated its 30th anniversary in 2009, posted an average rating of 24.2 points, beating ABS-CBN's Wowowee by 7.3 points.
ADVERTISEMENT - CONTINUE READING BELOW
In Total Urban Luzon, which accounts for 77% of total viewing population in Urban Philippines, GMA-7 beat ABS-CBN by 3.3 percentage points with average audience share of 38.4%.
This year, the Kapuso network promises to offer a stronger lineup of programs in celebration of its 60th anniversary. Current primetime offerings include the phenomenal series First Time, which stars Joshua Dionisio, Barbie Forteza, and Jake Vargas; The Last Prince, which features the love-team of Aljur Abrenica and Kris Bernal; Diva, the first "kantaserye" starring Regine Velasquez; and the fantasy series Panday Kids. Upcoming primetime shows include Survivor Philippines Season 3, Encantadia, Endless Love, Captain Barbell, etc.
GMA has also been delivering a comprehensive coverage of the upcoming national elections dubbed Eleksyon 2010.