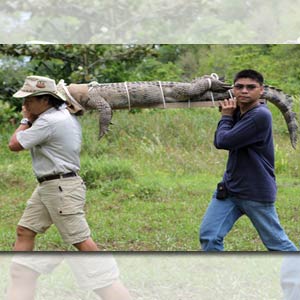 ---
Kim Atienza will fly down south to Davao to search for the two most treacherous animals in the city: the Banakon or the King Cobra, and the ostrich this Sunday (March 28) in Matanglawin.
ABS-CBN's Trivia King will go to a damp and dingy forest to hunt down the venomous animal that has taken the lives of more than five people in the area. He will again put himself to the test when he finds out how dangerous this animal is.
The TV host will also visit the Tagum Farm in Davao and see for himself how fast, how big and how terrifying the ostrich really is. Ostriches can grow as tall as nine feet, can run 70 km/hour or equivalent to a speeding car in EDSA, and yet Kuya Kim wants to challenge an adult ostrich to a running match.
Dont miss all these intense happenings in Matanglawin this Sunday (March 28), 11 am on ABS-CBN.