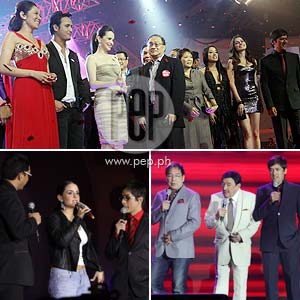 ---
Even seasoned executive Manny Pangilinan had to admit that running a network is one daunting task.
"I was telling people around my table that starting a project, especially a television station, is a very difficult task. It's a business that is quite different from the businesses that we did," Pangilinan said last Thursday, March 25, at TV5's trade launch held at the World Trade Center in Pasay City.
He added, "There will be setbacks and false starts along the way. Some will say that it cannot be done. That the task is too much for us, that we can't do it, it's too risky. But it's in our nature to keep on trying until we succeed."
The speech was straightforward and short, which is typical of the man simply known in the business circuit by his initials MVP. But there was little doubt that Pangilinan's takeover of the network once owned by tycoon Tonyboy Cojuangco offers hope that the fledgling station would finally live up to its full potential.
Gathering managers, employees, business partners, sponsors, members of the press, and its growing list of non-exclusive talents, TV5 officially unveiled its new look designed to cater to the "Bagong Pinoy" audiences.
And if the two giant networks are widely known as Kapuso and Kapamilya, the Novaliches-based station positions itself with the brand ID—Kapatid.
FRESH START. The trade launch was the culmination of an aggressive campaign that began late last year to further boost Kapatid's steady growth.
ADVERTISEMENT - CONTINUE READING BELOW
Aside from revamping and strengthening its lineup of programs, TV5 boldly embraced the concept of highlighting the non-exclusivity clause in contracts to lure some of the industry's biggest names to its fold.
Over several months, the network was able to convince stars like Maricel Soriano, Paolo Bediones, Ruffa Gutierrez, JC de Vera, John Prats, Rainier Castillo, and Comedy King Dolphy to sign up with them. The new recruits will complement the station's previous batch of stars led by Vic Sotto, Joey De Leon, Lucy Torres-Gomez, and Ryan Agoncillo.
All of the stars mentioned were present at Kapatid's affair. Some of the other TV5 celebrities spotted were John Estrada, Oyo Sotto, Pauleen Luna, Alex Gonzaga, Amy Perez, Vandolph, Daiana Menezes, Jeffery Quizon, Erwin Tulfo, poet and writer Lourd de Veyra, Ariel & Maverick, Tuesday Vargas, Mr. Fu, Valeen Montenegro, William Martinez, Yayo Aguila, Jon Avila, Nova Villa, Eric Quizon, IC Mendoza, Cristy Fermin, Carla Humpries, Jenny Miller, Apple Chiu, Jan Nieto, Chris Cayzer, and Edgar Allan Guzman.
Ryan Agoncillo and Paolo Bediones hosted the special occasion, while Lucy Torres-Gomez, John Prats, Cookie Chua, Luke Mejares, and Jet Pangan, to name a few, performed to keep the evening swinging.
The highlight of the program was the production number delivered by the three heavyweights of comedy: Vic Sotto, Joey De Leon, and Dolphy. The funny trio revived one of Dolphy's trademark stunts—interpreting a song lyric originally written in English to Filipino, literally, thus giving the material new, comical meaning.
ADVERTISEMENT - CONTINUE READING BELOW
And speaking of a star-studded gathering and surprises, international R&B singer-songwriter Jojo personally dropped by to wish the newly-dressed network good luck.
Jojo will be performing on the evening of March 27, at the SM Mall of Asia Concert Grounds for a fundraising concert together with pop sensation Justin Timberlake and award-winning record producer, songwriter and performer Timbaland.
The trade launch, more importantly, gave TV5 the opportunity to present its current roster of programs—Pidol's Wonderland, My Darling Aswang, House or Not, Face To Face, Juicy, the drama anthology 5 Star Specials, Midnight DJ, Moomoo & Me, BFGF, Lokomoko U, Talentadong Pinoy, Who Wants To Be A Millionaire, Everybody Hapi, Paparazzi, Aksyon, Sapul!, USI, Timbangan, Tutok Tulfo, Dokumentado, Lupet, Ako Mismo, Totoo TV, and the return of the well-loved children's program Batibot.
TV5 also proudly announced its own Sunday noontime variety program titled P.O.5, topbilled by Lucy Torres-Gomez, Ryan Agoncillo, John Estrada, JC de Vera, and Alex Gonzaga.
"They [the stars] have decided to hitch the wagon with us. To join us at the start of a very exciting journey. We will share the joys and the risks of what will be a new adventure for us. So, welcome to TV5 and thank you for your confidence. To the management and staff of TV5, I'd like also to thank them. I think they've done a lot of work with great progress for the past four months," Pangilinan acknowledged at the end of the program.
With new management at the helm and endless possibilities, he declared, TV5 promises to be "not just another big, intimidating network, but rather a brother, a sister, a pal to all Filipinos."
ADVERTISEMENT - CONTINUE READING BELOW
Also one of the highlights of the evening was the raffling of a brand-new Toyota Vios and other items worth more than P1 million pesos.
CLICK HERE to see more photos of the event.