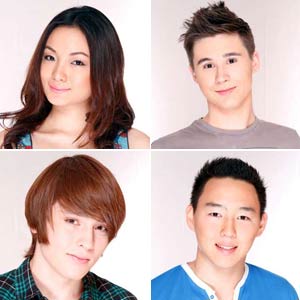 ---
The "teenternational" housemates of Pinoy Big Brother Teen Clash of 2010 have added an international flavor to the show since they entered the PBB house on May 1, 2010.


The ten bed spacers who entered the Apartment were: Bret Jackson from the United States, Carson Vince from Canada, James Reid from Australia, Richard Na, Ryan Bang, Jack Yoon, Jenny Kim, and Sophia Ko from Korea, April Sun from Hong Kong, and Ann Li from Taiwan.
Despite their different cultures and countries of origin, Kuya's international guests have been trying their best to get along with each other. Some of them can even speak or understand Tagalog like Bret Jackson, Carson Vince, April Sun, and Jack Yoon—making it easier for them to interact with one another.
The teenternational housemates did not find it hard to be in good terms with everyone in the Apartment, but will it also be the same case with the Pinoy housemates in the Villa?
How will both groups react when they find out about the "clash" that will change the mechanics of the Big Night?
Get to know the Teenternational Housemates with Mariel Rodriguez in PBB Teen Clash of 2010 Uber in its new timeslot after Precious Hearts Romances presents Love Me Again, Toni Gonzaga in PBB Teen Clash of 2010 after Habang May Buhay, and Bianca Gonzalez in PBB Updates.
Also catch PBB Raw Teen Clash of 2010 from Monday to Saturday, 11 am on Studio 23 and the 24/7 live streaming on Skycable Ch. 150.