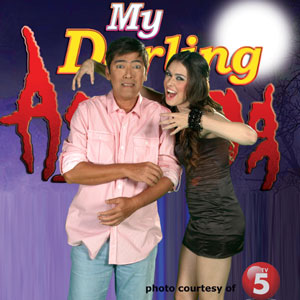 ---
TV5's newest sitcom, My Darling Aswang, has been entertaining viewers every Sunday night with its storylines filled with horror, fantasy and comedy. This TV series is actually a spin-off of the Metro Manila Film Fest 2009 top grosser movie Ang Darling Kong Aswang starring Vic Sotto and Cristine Reyes.

The network executives of TV5 originally wanted to get the rights to the TV show Ful Haus, which is owned by Vic's M-Zet Productions. They also wanted to have Pia as Vic's leading lady but she is still under contract with GMA-7. For this reason, they decided to acquire the TV rights of Ang Darling Kong Aswang and paired Vic with a new leading lady, Brazilian model Daiana Menezes. They pointed out that the movie already has a following so TV5 decided to come up with this spin-off.


My Darling Aswang, which is directed by Bert De Leon, is the first sitcom project of M-Zet Productions.
"Noong in-offer nila sa akin ito ay hindi na ako nag-hesitate. I want to be a part of it. I have nothing personal with GMA-7 or ABS-CBN, lahat naman sila kaibigan ko," said Vic during his press conference held recently at Annabel's Tomas Morato.
When it comes with the Kapatid station, Vic has a lot of faith on TV5, the same network that also chose him to host the game show Who Wants To Be A Millionaire. He believed that TV5 has the capacity to keep up with the two major TV networks today.
ADVERTISEMENT - CONTINUE READING BELOW
"I know soon or maybe later, this will be a major network. Personally, I feel there's still a lot of room for another major network. Hanggang 3 tingin ko kaya, which is good for the industry."
NEW TWISTS. When asked how this sitcom differs from the movie version, Vic explained that the change mostly involves his new leading lady Daiana.
"Si Daiana dito is hybrid na aswang. Ang version natin ng vampire is aswang, so si Miguel Faustmann is from Transylvania, imported na vampire. Si Tetchie [Agbayani] naman is native na aswang. So ung anak nila ay cross-breed."
Vic is satisfied by the professionalism displayed by his new leading lady. He was initially worried about her capability to speak in the vernacular but he pointed out that she is a quick learner.
When Daiana was aksed if she had any difficulty in speaking the local language, she said that is doing her best and that she is very willing to learn the Filipino language.
"On Tagalog not really pa, but I'm working on it kasi hindi ako nag-aaral. Everything I learned about tagalog narinig ko lang and I ask. ...When you want to learn something, you really do it kahit hindi ako nag-aaral," says Daiana, who became a familiar face due to her exposure in Eat Bulaga.

My Darling Aswang revolves around Victor Catacutan (played by Vic Sotto), an imaginative horror writer who moves from the province to pursue his horror-fiction writing in Manila. He meets Bella (Daiana Menezes), his beautiful neighbor with whom he falls in love with. He is clueless about the fact that Bella is the rumored daughter of Demet (Miguel Faustmann), a vampire from Transylvania, and Tasha (Tetchie Agbayani), an aswang from the Visayas.

Upon arriving in Manila, Victor also meets and lives with the motley gang of Mel (Richie D'Horsie), Gas (Jose Manalo), and Bal (Wally Bayola) who is Victor's co-worker in the Triple C (Call Center Canteen). Adding to the comedy and confusion is Mel's mother Aling Idang (Ces Quesada), the canteen owner and the neighborhood chismosa who always gets wrong information from Queyni (Kakai Bautista)—Bella's family maid who always witnesses the aswang family's weird and funny ways but is unable to prove anything.

Also starring in the sitcom is StarStruck Avenger Rhea Nakpil as Dindin, the funny teenage tindera at the sari-sari store, where most of Aling Idang and her friends' gossipmongering about the aswang family takes place.

On its fifth episode this Sunday, Victor tries his luck to ask Bella if he can visit her at home. Aling Idang wonders what her son sees in Bella but Victor defends his lady love. Because of Aling Idang's inquisitiveness, she discovers something about the aswang couple Demet and Tasha.
ADVERTISEMENT - CONTINUE READING BELOW
Catch the horror-comedy sitcom My Darling Aswang every Sunday at 8:30 P.M. on TV5.