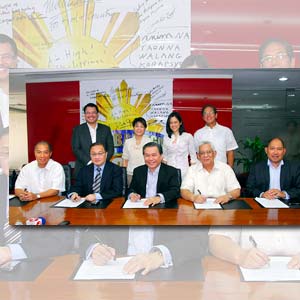 ---
In preparation of their news coverage of the country's first automated elections, TV5 has forged partnerships with business and broadcasting companies as well as organizations across the country to deliver NEWS5's Pagbabago 2010, a comprehensive and extensive all-day live media coverage of this Monday's (May 10) monumental national elections.

Pagbabago 2010 Live Media Coverage is NEWS5's foray into its first national elections news reportage, poised for action and public service together with its media partners in the field of information and communication, legal, research and political consultancy, academe, and new technology.
The partnership involves the collaborative efforts of NEWS5, DZRH Manila Broadcasting Radio, Manila Broadcasting Company (MBC), Legal Network for Truthful Elections (LENTE), Stratbase Inc. Public Affairs and Research Consultancy Group, Information and Communication Technology College I Academy, ePLDT, Inc., and social survey institute Social Weather Stations (SWS).
TV5 Chairman of the Board Manny V. Pangilinan together with the network's top executives welcomed and gave thanks to the collaborators of Pagbabago 2010 who attended the signing of the memorandum of agreement held last Wednesday. These included MBC President Ruperto Nicdao, Jr., LENTE National Co-Convenor Atty. Carlos Medina, Stratbase Founder and Managing Director Victor Manhit, and I Academy President Monico Jacob and CEO Vanessa Tanco.
ADVERTISEMENT - CONTINUE READING BELOW
NEWS5 anchors will deliver an extended live coverage of the elections starting 5:00 AM on Monday, May 10, until the next day, covering 15 live points in Metro Manila and five provinces including Cebu, Abra, Pampanga, Isabela, and Maguindanao.
The whole-day media coverage will highlight national, regional, and provincial voting scenes, extensive analyses of the electronic count and exit poll results to be done by Stratbase, and onsite paralegal and paramedical services in all live stations.
SAPUL anchors Erwin Tulfo and Cheri Mercado will start the whole-day Pagbabago 2010 live and on-location media coverage (with intermittences from DZRH live reports) from 5:00 AM to 9:00 AM, followed by live and on-location hourly reports and major voting highlights from AKSYON newscasters Paolo Bediones and Cheryl Cosim from 12:00 NN-2:00 PM and 5:00 PM - 7:00 PM.
In the evening, Martin Andanar, Jove Franciso, and Luchi Cruz-Valdes will report and give a fast-breaking update on electronic count and exit poll results in both national and local electoral exercises to be exclusively conducted by DZRH, SWS and Pulse Asia.
ADVERTISEMENT - CONTINUE READING BELOW
TV5's partnership with ePLDT will serve also for the transfer of count, as well as the use of state of the art graphics (Viz-RT), to ensure quick updates and fast delivery of results of the country's first ever automated elections.