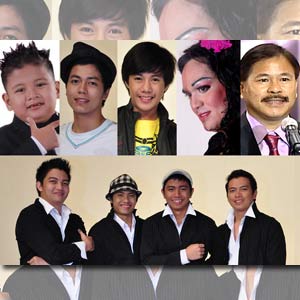 ---
As the competition gets tougher every week in ABS-CBN's reality-talent show Pilipinas Got Talent, the public is also having a tougher time choosing who among the semi-finalists they will vote for to enter the grand finals.


This week, charming young singer Rolando Ng III of Cagayan De Oro; hip-hop dancer Alexis Carpena of Laguna; guitarist Keith Clark Delleva of Pasay; doble-kara singer Reggie Ramirez of Davao; tenor Manolito Saldivar of Dumaguete; and breakdancers Velasco Brothers of Batangas will compete for two coveted finalist slots.


Who will make it to the finals this week? Don't miss the 2nd live semi-finals of Pilipinas Got Talent this Saturday (May 15), 7:15 PM, and on Sunday (May 16), 8:15 PM, on ABS-CBN. Watch the show to know the text syntax to use to vote for the next semi-finalists.


In the following week, Studio 23 will be airing these episodes from 6 PM to 7 PM (May 22-23).