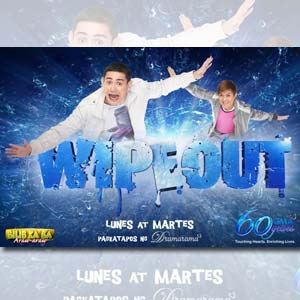 ---
GMA-7's reality show Wipeout will hold its first-ever Wipey Awards on Monday and Tuesday, May 17 and 18. Watch this funny reality series from Endemol during the Kapuso Network's Bilib Ka Ba Araw-Araw block.


In the show, contestants compete through four rounds of hilarious but no less physically demanding challenges until only one of them avoids being wiped out.
With their rapport and witty punch lines, hosts Paolo Contis and Vince De Jesus will treat audiences to a flashback of the top wipeout episodes where awards for most embarrassing outtakes, most unforgettable contestants, and the most nonsensical of titles will be given away.
On Monday, categories include Best Sucker Punch, for the contestant who received the hardest blow in the face; Best Sweeper, for the contestant who had the most wipeouts in a single sweep; Most Calm and Collected, for the contestant whose presence was not felt amid the ear-splitting and nerve-wracking surprises; Dizziest Dummy, for the contestant who survived, though tipsily, the instant migraine caused by the dizzy dummy course; and the greatest accolade, the Best Wipeout, which will be given to the contestant who has conquered the world's biggest obstacle course.
The recognition of zaniness continues on Tuesday with insane wipeyBest Soap Opera Moment, for the contestant who executed the most tear-jerking finish; Best Purple Tracksuit, which will be awarded to the self-absorbed guy contestant who stole the spotlight with his glinting purple tracksuit; Best Romance, for the couple who has shamelessly and courageously professed their love against all odds--literally; Best Dance for the contestant who swaggered the quirkiest dance moves while racing, and Best Battle Cry for the contestant with the most nonsense but energizing self-cheer.
Wipeout's first-ever Wipey Awards starts on Monday and Tuesday, May 17 and 18, before Take Me Out on GMA-7.