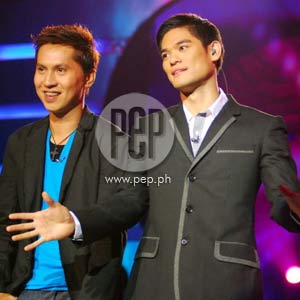 ---
GMA-7's hottest reality dating show Take Me Out gets even more exciting this week as surprising twists unfolds that will surely awe-struck love stricken viewers.
Aside from the brighter and livelier set, the 30 single ladies and the searching bachelors will do production numbers and sketches to allow both parties to get to know each other.
Today's episode, May 17, will show how Mr. Single reach Round 3 without a single lady switching her lights off. One bachelor, on the other hand, will find his romantic match through sign language.
See also how 2008 Cosmo Bachelor Bryan Benedict and hunky swimmer-businessman Franco Sillona fare in their respective bids to find a date.
This week will also feature a Cebuano bachelor who gets very emotional when he sees his parents inside the studio, making even the girls along with the audience teary-eyed.
The team behind the show told PEP (Philippine Entertainment Portal) that inserting personal and heart touching stories was a conscious decision to allow both the viewers and the ladies to appreciate the bachelors even more beyond just their physical attributes.
ADVERTISEMENT - CONTINUE READING BELOW
Other searching bachelors, among others, include a Latino lover from Cuba, a classically trained pianist, a Baranggay Kagawad, a Samar native hunk, and a responsible and hardworking dude bent to give love a try after years of assuming bread-winner role following the death of his father.
The featured and lucky ladies this week are also sure to catch the attention and interest of the viewers because of their good looks and appealing personalities.
Even more exciting is the all male celebrity week special featuring a famous actor, a cutie graduate of Survivor, a Brazilian model, a local rock n' roll band singer, and a Kapuso hunk—all guaranteed to make the girls swoon in delight and desire.
It was also announced that Take Me Out is inviting single guys and girls, 20 to 40 years old to audition every Saturday and Sunday from 12 noon to 5:00 p.m. at the GMA Network Drive.
ADVERTISEMENT - CONTINUE READING BELOW
Applicants are asked to bring the original and photocopy of their birth certificate, valid ID, and whole body close-up photos. Interested applicants should look for Virna Cañete and required to personally hand over their requirements.
Take Me Out, hosted by Platinum Prince of Soul Jay-R, airs from Monday to Friday at 5:00 p.m. on GMA-7. The show will have a replay after the News and Public Affairs late night block.