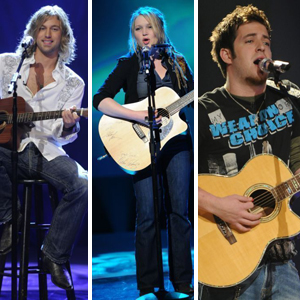 ---
It's a three-way battle this week on American Idol, which airs locally on Q Channel 11!
On performance night, the Top 3—Crystal Bowersox, Lee Dewyze, and Casey James—will be performing two songs each, one a personal choice and the other, chosen by American Idol judges Simon Cowell, Kara DioGuardi, Randy Jackson and Ellen DeGeneres.
Then on results night, teen sensation Justin Bieber will hit the Idol stage to perform two of his hit songs.
Last week, Michael "Big Mike" Lynche said goodbye to his Idol dreams. The 6 ft 1 crooner from Astoria, New York, sang "Will You Be There" and did not exactly have the judges excited. Randy, Ellen and Kara were expecting more. His duet with Casey, their version of "Have You Ever Loved a Woman," fared so much better.
This week, Crystal, Lee and Casey need to deliver—impress the judges and keep the fans excited enough to vote for them—or else, they will be cut from the competition. During the last performance night, Casey, the heartthrob blues guitar player, again disappointed the judges with his version of "Mrs. Robinson."
On the other hand, Crystal, the 24-year-old young mom who plays the guitar and has a raspy-beautiful voice, sang a knockout "I'm Alright" and Simon proclaimed that she's "back in the game." Lee, the 23-year-old rocker who seemed to do no wrong the past few weeks, faltered with "Kiss from a Rose."
It's still anybody's season to win! This week, the lowest vote-getter goes home and the Top 2 will emerge for a showdown to determine who becomes the next American Idol!
Don't miss the biggest talent show in the planet, AMERICAN IDOL which Wednesday and Thursday, 6 pm (with same day replay at 8 pm), only on Q Channel 11!