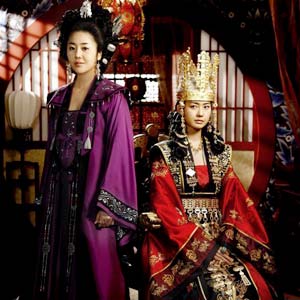 ---
Will you give up the one you love for your family?
Beginning Wednesday, May 19, the handsome warrior Yu-Shin in GMA-7's leading Asianovela, Queen Seon Deok, will make the most important decision in his life: the choice between his love for Queen Seon Deok and his devotion to his family.
Ever since Yu-Shin has clinched the title of Maestro (chief soldier), he has become a sensation. Soldiers seek his approval, generals his allegiance. And though each battalion's fire is directed towards owning him, only General Seol Won (who is under the command of Mi-Shil) was able to bring the ultimate heat--and that is the scorching curse of blackmail.
The document that exposes Yu-Shin coming from a lineage of rebels is now in Mi-Shil's hands. In exchange of her silence, Yu-Shin must marry Mi-Shil's granddaughter, making way for the perfect alliance. Deokman--(the young Queen Seon Deok) upon learning about the bargain--weeps in fear.
Torn between his undeniable feelings for the faithful Deokman and his vehement duty to protect his family, will Yu-Shin be able to play his cards right this time? Can two people in love thwart boundaries that involve one's own family?
The most significant decision in Yu-Shin's life will be revealed in Queen Seon Deok on Wednesday, May 17, right after Diva.