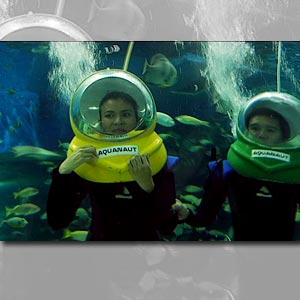 ---
This Sunday, May 23, Zooperstars will take a plunge at the Manila Ocean Park located near the Quirino Grandstand in Manila.
Host Gelli De Belen will turn into an "aquanaut" or a "skin-diver" to let audiences experience marine life more deeply, literally and figuratively. The exploration will be nothing short of startling because aside from the fact that it will be a first for Gelli, wearing an aquanaut suit enables humans, non-swimmers included, to walk underwater without getting wet!
Meanwhile, her co-hosts Julian Trono and Sabrina Man will take on a glass bottom boat ride in a giant aquarium where stingrays, sharks and colorful schools of fish abound. Share their excitement in learning how the aquatic animals interact and in unraveling the overflowing riches of the ocean.
After their individual adventures, Gelli, Julian and Sab will then regroup to attend their appointment with a certain Dr. Fish. Discover the healing and rejuvenating wonders of this tickling nibbler fish found at the spa service section of the park.
Zooperstars airs every Sunday, May 23, right after Aha! on GMA-7.