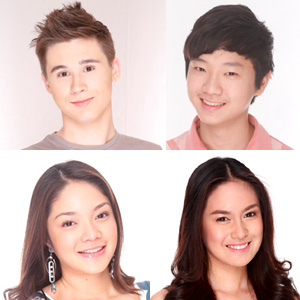 ---
Big, bold changes have taken place in Pinoy Big Brother Teen Clash of 2010, catching the housemates in complete surprise. First, the Teenternational bed spacers moved into Villa's court earlier this week. Ambivalent feelings of joy, excitement, shock and fear were felt by both teams regarding the new arrangement. As such, the clash between the two teams continues to escalate with Kuya's weekly tasks.

One of the tasks, "Let's Beat It Birit" Challenge was a test of musical creativity, skill and showmanship. Kuya asked each team to sing a song complete with instrumentation. The Pinoy housemates selected Yeng Contantino's "Pangarap Lang" while Never Shout Never's "Can't Stand It" was the Teenternationals' choice.

Ace musician Marc Abaya and Magic 89.9 DJ Mojo Jojo were the special jurors. Team Villa performed first followed by the teenternationals. After the showdown, both Marc and Mojo Jojo gave their personal critique and in the end, voted in favor of Teenternationals. They were very impressed with their showmanship and talent. DJ Mojo Jojo remarked, "Group 2 [Teenternationals] is the unanimous winner."

But the clash didn't end there. The "Ultimate Tug of War" fight followed suit. And this time, Team Villa reigned supreme in all three rounds in this fight of guts and glory.

KAZEL DEVELOPS EATING DISORDER. Changes are never easy. Now that both teams officially live under one roof, all the housemates have to learn how to adjust living with one another. Kuya noticed that the PBB house is always untidy. He also noticed housemate Kazel Kinouchi's eating habits. She would eat all time but after eating, she would throw up. Kuya thought it best to consult the resident psychiatrist, Dr. Dellosa, about Kazel's condition. It was revealed that Kazel is suffering from a stress eating disorder. Kuya then asked Richard, Ryan and Jenny to "watch over" Kazel.
ADVERTISEMENT - CONTINUE READING BELOW

The second shocking change this week is the announcement of not just two but four housemates for eviction. This is the first time in the history of PBB that four members will leave Kuya's house.

Nominated this week from Team Apartment were Koreans Sophia [Ko So Young], Richard Na Do Dun and Canadian Carson Vince.

Angelo Pasco, Tricia Santos, Ivan Dorschner, Yen Santos and Kazel Kinouchi were the members that comprise the Pinoy camp.

Since there are three teenternational housemates nominated, only one housemate will continue to stay in Kuya's house. Sophia, the lone female nominee was the chosen housemate considered "safe" this week; Carson and Richard were evicted. Both of them garnered the lowest votes with Carson receiving 22.18% while Richard got 34.06%. Sophia scored the highest with 43.76%.

When asked about the lessons that they learned during their PBB stint, Richard and Carson pointed out that they learned to think more positively.


After Carson and Richard's swift exit, PBB host Toni Gonzaga announced that the three Pinoy housemates were saved from eviction. Ivan's name was the first to be called, followed by Tricia. And before the third member was identified, the host asked Angelo, Kazel and Yen to enumerate their individual contributions to their housemates.

Angelo replied, "ang tatag ko po." "Yung pagpapasaya sa housemates" was Kazel's big contribution while "ang pakikisama ko sa kanila" was Yen's simple reply.

Angelo was the third housemate saved, making Yen and Kazel the third and fourth evictees last night. The lowest votes went to Yen and Kazel with 15.29% and 16.15% respectively. Angelo got 16.80%, Ivan with 18.13% while the highest votes went to Tricia at 43.33%.

As Kazel stepped out, she said fondly, "Mami-miss ko si Joe and Patrick." She will truly miss their Avatar group composed of Joe, Patrick and Yen. Yen's parting words were "...alam ko sobrang proud kayo sa akin," as she was reunited with her father, Daddy Ronnie.
ADVERTISEMENT - CONTINUE READING BELOW

Catch Pinoy Big Brother Teen Clash of 2010 every night at ABS-CBN.