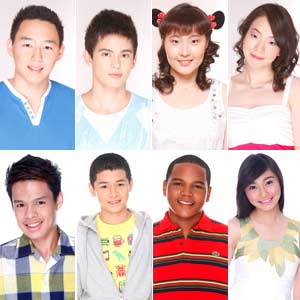 ---
The Teen-ternational and Pinoy housemates of Pinoy Big Brother Teen Clash of 2010 had a major confrontation Monday night after receiving the results of the weekly task.
Already assured of one slot to the Teen Big Night, the Teen-ternationals earned two more after winning their face-off with the Pinoy teens. This left only one slot in the Big Night for the Pinoy teen housemates.
In order to increase their slots, Big Brother allowed them to try to convince the Teen-ternationals for a rematch through a rap-off. However, instead of striking a deal, the Pinoy teens offended the Teen-ternationals.
The Pinoy housemates expressed in the lyrics how they felt cheated after getting only one Finals slot after seven weeks of staying inside the Pinoy Big Brother house. Ivan, meanwhile, explained that when they said "they felt cheated," they expressed their feelings that fate wasn't fair to them.
The first four clashes saw the Pinoy housemates winning but with the high scores of the Teen-ternationals in the "Birit Hirit Band performance" and the "Clash on the Ramp Fashion show," the latter emerged the runaway winner.
ADVERTISEMENT - CONTINUE READING BELOW
Meanwhile, housemates Jack, James, Sophia, Jenny, Angelo, Patrick, Joe, and Tricia were nominated for eviction this Saturday (May 29). Who among them will follow Yen, Kazel, Richard, and Carson who were ousted last Saturday? And will the Teen-ternationals accept the Pinoy teens' call for a rematch?
Find out with Mariel Rodriguez in PBB Teen Clash of 2010 Uber, Toni Gonzaga in PBB Teen Clash of 2010 on primetime, and Bianca Gonzalez for PBB updates.