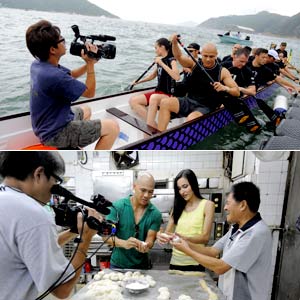 ---
Former Amazing Race Asia participant Rovilson Fernandez perhaps can rightfully claim the best job in the world title.
That's because the hunky model was just recently chosen to host the travel segment of AXN's top-rating magazine show, eBUZZ. Rovilson will be joined by VJ and international model, Lisa S.
"I'm very privileged to be part of it and the first thing we're foraying into is the Hong Kong Festival, which I think is perfect because Pinoys always goes to Hong Kong though siyempre they're always there just to shop and eat and then they're out," said Rovilson with a laugh during an interview with PEP (Philippine Entertainment Portal) yesterday, May 27, at the Shang Palace of the Makati Shangri-La Hotel in Makati City.
But that's where the challenge comes in for Rovilson and the entire crew. Their objective, added Rovilson, is to take viewers along to a particular location and "let them know that there's so much to do and so much more to see" in the places they're visiting.
As mentioned earlier, the group's first stop and main focus will be Hong Kong where they will try to debunk the city's image as merely a shop and dining mecca for tourists. AXN Asia and the Hong Kong Tourism Board joined forces to highlight the assortment of unique traditional customs and festivities observed in the former British colony.
Hong Kong after all is an interesting mix of Chinese and Western cultures shaped enormously by its rich history.
AWE-INSPIRING. The string of features that will be offered by the program falls in line with the "Festive Hong Kong 2010" celebrations, which are basically made up of exciting festivals, cultural revelry, vibrant fiestas and exhilarating entertainment.
Some only of the worth seeing festivals that will be featured include:
ADVERTISEMENT - CONTINUE READING BELOW
Bun Festival: Celebrated with much fanfare around the third of fourth week of May. The fete is highlighted by the Floating Colors Parada (known in Hong Kong as "Piu Sik") participated by people in colorful costumes, kids in bright make-up, Chinese mythical characters that seemingly float in the air—a veritable Hong Kong version of the Mardi Gras. This festival is also made more meaningful by the "blessed buns"—found in Cheung Chau Island.
Dragon Boat Festival: Usually a colorful and noisy affair, it attracts thousand upon thousands of people as well as representatives of international dragon boat racing teams. Visitors and participants can take a respite from the activities by munching on rice dumplings. This year's event will also witness the debut of the Hong Kong Dragon Boat Carnival.
"It's going to be exciting and we will certainly bring the viewers as if they're really in Hong Kong and celebrating," said Rovilson.
The eye-catching tourist spots complement the interesting back stories, trivia and facts that will be shared by Rovilson.
"There are so many festivals in the calendar year and we should immerse ourselves in culture because we're a curious and culturally minded group of people so that's what the segments are all about," he explained.
Catch the premiere episode of eBUZZ Specials featuring Festive Hong Kong 2010 on June 4 at 8:30 p.m. It will be aired exclusively on AXN.