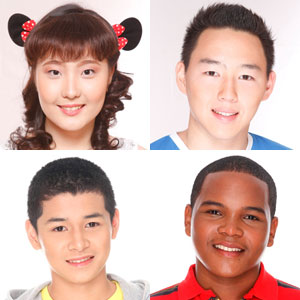 ---
Personal clashes between the Pinoy housemates and the Teenternationals became more evident this week as the teenternationals ended up winning in two more challenges. With this development, the Pinoy housemates, seemingly in desperate mode, implored to Kuya for a "rematch" so they can earn a slot in the Big Night. Kuya agreed to a "rematch."


Both teams would have to compete in a "domino challenge." Each team player is assigned to sit on a chair made of dominoes for a certain time. If the domino blocks would fall off, the housemates should "fix" the blocks as quickly as possible. And in the end, the Pinoy housemates triumphed. Sheer determination was their driving force.

Kuya's weekly task "united" both groups as one big team. Kuya challenged the teens to learn the discipline of wushu. Two wushu masters were assigned to teach the housemates. Learning wushu wasn't an easy task for them. Some housemates were willing to learn while some lacked the passion or the "chi." After several days of training, garbed in traditional wushu garments, the housemates performed a ceremonial exhibition before two wushu judges. Overall, the housemates' performance got the green light from Kuya. They passed the weekly task in flying colors.

Upon seeing the housemates' hardwork, Kuya decided to treat them to day of pampering. The teenternationals and Pinoy housemates had a haircut and a facial treatment courtesy of Belo Medical Group. The facial treatment was so relaxing for Jack Sungbin tht he fell asleep with matching snore. Ryan Bang, on the other hand, described the facial treatment by saying, "it's like 1000 mosquitoes kissing me."

This week, two teenternationals and two Pinoy housemates were to be evicted from PBB.

Sophia [Ko So Young], Jack [Sungbin Yoon], James Reid and Jenny Kim are the four teenternationals nominated this week.
ADVERTISEMENT - CONTINUE READING BELOW

The Pinoy housemates nominated are Angelito "Angelo" Pasco, Patricia Mae "Tricia" Santos, Patrick Sugui and Joe Vargas.

Teenternationals James and Jenny were "saved" while Jack and Sophia were the housemates evicted last night. Before leaving the house, PBB host Toni Gonzaga asked Jack what he will do when he goes back to the outside world. Jack replied, "back to my normal life." The host further added that he could go back to managing his business. Sophia simply said, "It was a great experience for me."


Both of them will never forget the friendship and the valuable experiences at PBB. The lowest votes went to Jack at 4.31% and Sophia at 12.24%. Jenny garnered 14.59% while the highest votes went to James at 68.86%.

Jitters were felt by the four nominated Pinoy housemates. Tricia was the first housemate to be called. Angelo, being the second housemate to be "saved," gave a sigh of relief as his name was called. Joe and Patrick automatically became the third and fourth evictees during the eviction night.

Joe scored the lowest votes at 5.60% and Patrick at 17.33%. Angelo fared better at 23.79% while Tricia garnered the highest percentage at 53.28%.

Trying hard to fight back tears, good friends Patrick and Joe finally stepped out of Kuya's house. Joe was asked by the PBB host if he had any regrets. Joe replied that "Wala naman po. Pinakita ko lang kung sino ako." Meanwhile, Patrick was asked what he will miss inside Kuya's house, he said "My housemates. Kung wala sila, di ko kakayanin yan wala ang parents ko." The hosts then quipped that the evicted housemates should look forward to their Avatar reunion with Kazel Kinouchi and Yen Santos.

Only ten housemates are left inside Kuya's house. Find out what adventures await the remaining housemates.

Catch Pinoy Big Brother Teen Clash of 2010 every night at ABS-CBN.
ADVERTISEMENT - CONTINUE READING BELOW