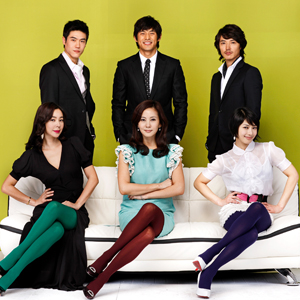 ---
Viewers who tune in to TV5 after coming home from school and work will be delighted with TV5's response to their insistent popular demand as smash hit Korean drama My Wife is a Superwoman, is now showing in the evening "Prime Times 5" block, alongside two new and equally award-winning Asianovelas Hero, and Taiwanese comedy drama Easy Fortune, Happy Life, starting tonight,Monday, May 31.
After its highly successful run on the network's "Gusto Ko Noon" noontime block, top-rating My Wife is a Superwoman lands a primetime spot on TV5 at 6:30 pm.
Due to the very positive reception of the show, My Wife is a Superwoman was extended from 48 to 60 episodes in Korea, as well as on TV5, and is now made available to viewers who missed it and want to follow the funny and quirky story of smart housewives competing against each other through their husbands' positions in the office, in obsession for a glamorous life.
Aside from this, TV5 also treats its "Prime Times 5" viewers with two new top-rating and most sought-after Asian drama titles with the action comedy Hero, starring award-winning actor Lee Jun-Ki who recently entered the Korean military [Korean males are required by law to spend two years in the military at age 21], and Taiwanese romance comedy "Easy Fortune, Happy Life" starring Lan Cheng Long (Meteor Garden) and actress-singer Chen Qiao En.
Hero comes to TV5 next week to tell the story of Korea's top reporters and ordinary citizens fighting against the society elite's abuse of power. Derek (Lee Jun-Ki) is a clever and talented reporter who ends up living a life of recklessness and despair when the woman he love dies, and later decides to start a new life by helping other victims of society's crimes.
ADVERTISEMENT - CONTINUE READING BELOW
The dilemma of a rich, arrogant, and hot-tempered bad boy who refuses to marry a country girl is told in the romantic comedy story of Easy Fortune, Happy Life. Jason (Lan Cheng Long) is the heir to his family's wealth after his grandfather passes away, but in one condition: he must marry Roxanne—a funny and carefree girl who becomes the target of an assassin who Jason personally hires and sends to get rid of the marriage.
Prepare for the big wave of Asia's favorite and top-rating drama serials on "Prime Times 5" with Hero at 6:00 pm, My Wife is a Superwoman at 6:30 pm, and Easy Fortune, Happy Life at 7:00 pm, airing from Monday to Friday starting this Monday, May 31 on TV5.