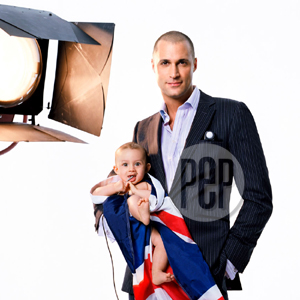 ---
A lot of Filipinos look up to Nigel Barker—literally andfiguratively. When the model-turned-photographer strode into the function roomof the Makati Shangri-La Hotel for his May 7 press conference, the room camealive because of his charismatic presence.
Members of the entertainment press, especially the women,could hardly believe that they were face-to-face with the man who was behindsome of the outrageous photo shoots of America's Next Top Model (ANTM).
Nigel was born in London, England, to a family of British,Sri Lankan, Portuguese and Irish origins. He has been with ANTM for the pastfour years, translating to eight cycles (or seasons) of judging contestants forthe reality modeling series.
He tells reporters that he has heard about the local versionof ANTM and said that he was "very pleased" about Philippines' Next TopModel even though he has not yet watched an episode of the local show.
"It's very exciting for us. We have franchisers in 44countries. We have shows in 117 countries worldwide. We're very happy. [I'm]very proud to know that it's here."
Avid viewers of the show can look forward to four moreseasons in the near future. In fact, Nigel himself reveals that ANTM Cycle 9will start filming this June. His fellow judges in ANTM include supermodel-host Tyra Banks, runway expert J.Alexander, iconic model Twiggy, plus makeup artist and photo director Jay Manuel.
The New York-based photographer admits that they domanipulate their shots but he is quite wary of altering such images. "In America'sNext Top Model, we use little digital manipulation. Sometimes, we do heavyretouching. I say sometimes because we don't do that often on the girls. Wedo manipulate our colors, and the look and the feel—that's one thing—but I'mnot a huge fan of that kind of photography to be honest with you."
ADVERTISEMENT - CONTINUE READING BELOW
Voted as one of Reality TV's Sexiest Men of 2005, Nigelshows his sensitive side when he is asked to talk about his most glamorousshoot. "Glamour is a strange thing. Glamour really is only looking at it fromthe outside. If you're actually living it rarely is that life glamorous," hepoints out.
"We did a lot of work for Make A Wish Foundation and wegrant wishes to young girls that have life-threatening illnesses. And theywished to be a model for the day. For me, those shoots [with] those young girlswere the most glamorous moments I ever had as a photographer. The most wanted,the most needed, the most rewarding time I ever had as a photographer."
FASHION GURU IN MANILA. The British model-turned-photographer will be at Greenbelt 3 Park onMay 10 (7 p.m.), and at the Alabang Town Center on May 11 (6 p.m.). Along withthe Professional Models' Association of the Philippines and host Sam Oh, Nigelwill share his experiences in the fashion world.
This event is open to anyone who has an interest inphotography, modeling, beauty and the fashion industry. He is also set toconduct a live makeover plus a talk covering the do's and don'ts ofphotography-discussing the right way topose, the flattering angles for various body types and ways to enhance one'slook. If you have a burning question for Nigel, you can ask him during theQ&A portion where you can inquire about anything from proper lighting for ashoot to how to work the ramp.
ADVERTISEMENT - CONTINUE READING BELOW
The fashion photographer has been married to Cristen Chinsince October, 2001. They now have a one-year old son named Jack.