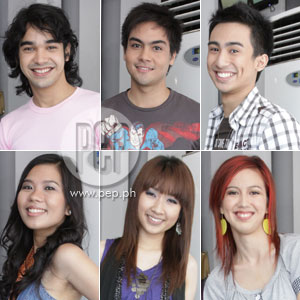 ---
Pinoy music channel MYX is again embarking on a search for new faces to host its programs.
This year, MYX VJ Search 2010 features a talented set of 12 young people vying for the most-coveted slot. The roster includes a TV host, a K-Pop fan, a high school achiever, a DJ, a Kobe Bryant look-alike, a red-haired college student, a sweet Fil-Am beauty, a cheerleader, a commercial model, a theater actor, a celebrity musician, and a pretty boy rockstar.
Chosen from around 500 auditionees nationwide, the 12 are currently showing their own brand of spunk and resiliency as they battle it out through challenges aimed to test their hosting skills, charm, and grace under pressure.
Previous winners of the MYX VJ Search, now on its fourth year, are Robi Domingo, Bianca Roque, Chino Lui-Pio, Janine Ramirez, and Nel Gomez.
Fans can vote for their favorite finalists through text messaging or through online poll.
Who would be the next MYX VJ? Viewers will have to wait until July 21 to find out. For now, meet the talented top 12.
ADVERTISEMENT - CONTINUE READING BELOW
ANDY SMITH is a former TV personality in QTV11, where he hosted the now-defunct show QTube.
In an interview last June 15, Andy told PEP (Philippine Entertainment Portal) he was discovered on Eat Bulaga in 2007. The 25-year old TV personality was raised in Australia.
"I grew up in Australia, till I was 21," Andy narrated. "I came here, I actually got discovered on Eat Bulaga. I was in the crowd, I was just watching with my family. It was my second day in the Philippines. My second day ever. And then Allan K asked me to go to the stage to dance and sing."
This was the start of his showbiz career. "Singing's not really my talent but anyway they got me on stage, and an agent got my details, and then yeah, that's where everything started."
Andy said the MYX VJ Search is another avenue for him to show his passion for music.
ADVERTISEMENT - CONTINUE READING BELOW
"Now I guess I'm looking for my new job. Music's a passion of mine and everyone around me knows I love music," he said.
Andy thinks he will stay in the Philippines for good. He's now a full-pledged Filipino citizen, although he does not speak much Tagalog. His girlfriend is also Filipina: sexy actress Jacq Yu.
Any plans of marriage? "Not right now," Andy said. "She has plans, I have plans. Marriage is not on our minds right now."
ANJ UY is a certified K-Pop fanatic. She even considers this as an edge.
"I think my edge is my bubbly personality and my K-Pop addiction. I really really love K-Pop," she told PEP.
This 18-year old Atenista even looks the part: she looks and dresses like her favorite girl group SNSD [Girls' Generation].
"I like SNSD because they're all so beautiful and they're all so talented. I love their voice, their personality, and how they dance," she said.
ADVERTISEMENT - CONTINUE READING BELOW
SNSD has nine members, and Anj knows them all by name. That's how big a fan she is.
"I can even sing their songs," Anj said, giving a PEP a sampler.
Anj said she was not this bubbly in the past. "I really was shy, I decided to come out of my shell," she said.
This is why she's excited to be part of the MYX VJ Search 2010. "I feel so excited and I'm so grateful to God that he gave me an opportunity to be here with these eleven wonderful people," she said.
DANE HIPOLITO is a young achiever in his own right. This 18-year old fourth year high school student from Ateneo is part of the basketball varsity, a dance group, and a band. To top it all of, he is also part of the honor section.
"Gusto ko mag-excel ako sa lahat ng gusto kong gawin," Dane told PEP confidently.
ADVERTISEMENT - CONTINUE READING BELOW
The MYX VJ Search 2010 is no different; Dane expects to be the ultimate winner.
He admitted, however, that he is quite a newcomer.
"Talagang hindi ko ine-expect 'to. Kasi never kong ginawa 'to, never akong nag-host. Actually I have no experience in showbiz," he said.
So he just sums up the competition this way: "Alam mo yung feeling na akala mo magaling ka na, pero pag tingin mo sa labas, maraming magaling? Pero makikinig ka ng radyo, manonood ka ng TV, 'di ba? Maraming magagaling. Pero meron ding magtataka ka kung bakit sila nandun. Maiisip mo sana ikaw na lang dun."
ISSA PEREZ DE TAGLE is a DJ at Mellow 94.7. Every weekday morning, Pinoy listeners can wake up to a perfect mood by listening to a perky Issa in the FM radio program The Wake-Up Show.
Joining the MYX VJ Search is a big step for Issa. "I feel a rush of adrenaline right now, because it's something new. I've never experienced something like this before."
ADVERTISEMENT - CONTINUE READING BELOW
To help her survive the rush, Issa told PEP she tries to stay true to herself. "It's the best way possible. Parang, express myself by that the way I look, the way I carry myself, that's really how I can do that," she said.
Even so, she does not expect to reach the end as the winner. "Like I said, I don't really expect to win. Everybody has their own edge," she explained. "So depende talaga kung anong magustuhan ng audience. Kasi very diverse yung mga personalities namin. You can't mistake anyone for each other. So I can't expect to win. I can only hope."
Her big showbiz plans, however, are a great motivation. She said she wants to meet her showbiz crushes.
"I really like John Lloyd Cruz, Jericho Rosales, and Gerald Anderson. So if ever they read anything that you write: Yes I love you. And if you ask me to marry you, I would. On the spot, you know?" she gushed.
ADVERTISEMENT - CONTINUE READING BELOW
JOSH KATIGBAK is not ashamed to say he looks like basketball superstar Kobe Bryant. No wonder he's a big big Lakers fan. Josh even celebrated on Twitter when his favorite team won this year's NBA championship.
Unlike Kobe, however, Josh wants to take his looks to showbiz.
"It's possible. I've got dimples. I got Kobe looks. So maybe it will get me somewhere in life," he told PEP.
But Josh finds his newfound fame "weird."
"People are following me on Twitter now e, parang weird," he said. "I feel flattered like, you know, if I had said that I want to be a basketball player, no one would want to follow me on Twitter. Now after doing this one thing, I'm surprised how my life has changed so fast. Now some people I don't even know recognize me."
The US-bred 18-year old young man is taking up Management in Ateneo. He doesn't know why he picked that course though, so he might just change it.
ADVERTISEMENT - CONTINUE READING BELOW
"I took Management... it's honestly a random choice. I don't know what to do," he explained. "I thought Management was a safe choice. I said, 'Okay, I can do anything with Management. I can go to business. I can even work in ABS-CBN with that degree.' So I chose that, but over-all I might want to reconsider that. I would like to go in a creative course. I realized I can be a little creative—maybe even acting? Something like that, I don't know."
Josh said he's preparing himself for showbiz by toughening up to criticism.
"People will say things about you, and if they say that, it's their opinion and it's okay. If they give me criticism, I'll take it. They can say bad things about me and I'll just... It doesn't hurt me. I know who I am," he said.
ADVERTISEMENT - CONTINUE READING BELOW
JULZ SAVARD is a red-haired chick full of raw spunk. This 21-year old college girl is not afraid to say what she thinks.
"I think a girl should be allowed to experiment," Julz said, when PEP asked her why she colored her hair red. "If she wants to dye her hair red, then she can. My hair does not define me, I define my hair."
And while other contestants shy away from expressing who they think is their toughest compettition, Julz bravely volunteered. "My first right now would be Issa because she's a good talker, and Kirsten because she's beautiful," she said.
Julz, however, exudes great confidence. "I really do think I have a chance to win. I really think I do have a shot."
She added, "I'm like the happiest girl in the world right now just to be here, just to be a finalist. It's already, 'Wow! I've done something, I've achieved something!' I want MYX. I want to be a member of the MYX family. I think it's a place where I can be myself, be accepted, and let me do all these crazy things."
ADVERTISEMENT - CONTINUE READING BELOW
KAT ESPE radiates a delicate beauty. This sweet 20-year old Fil-Am college girl from St. Benilde contains so much zest in life, that she's ready to give her best to every challenge.
In the press conference, Kat told the press how she won the MYX VJ Search 2010's styling challenge.
"We had to pick out an outfit within 15 minutes, the outfit was like we're going to the MYX VJ Awards," she said.
Kat added, "That was quite nerve-qracking for me kasi, I actually took the LRT to make it sure I make it in time after school. But the challenge was really fun. Medyo hectic, pero I was shocked that I won."
Unlike other contestants, Kat is not very active on Twitter, or any online networking wesbite; her Twitter account was only created on June 4.
But as one of her tweets suggest, Kat may just be a diligent college student. "Is happy that i did good in my quiz earlier :))" said Kat through her Twitter account @KatrinaEspe.
ADVERTISEMENT - CONTINUE READING BELOW
KIRSTEN RICE is a Fil-Brit college cheerleader. Her humility, beauty, and natural charm are her best traits.
She allowed PEP to interview her through Twitter. All her replies even had cute smiley emoticons at the end.
"Wow. this is unexpected but yeah sure thing!" she replied confidently.
PEP asked if she expects to win. "Its a tough competition," Kirsten humbly answered. "My fellow co-finalists are really good. I really can't say now but I hope so. I'd love to win though."
She added, "Everyone's good e. So I can't really choose. each one of us have different personalities."
What song best describes Kirsten as a MYX VJ?
"I think it's 'Beautiful' by Christina Aguilera, because I don't let words or anyone bring me down in reaching my goal," Kirsten said.
MANA MANALAYSAY is a veteran of commercial modeling. This 20-year old Law Management graduate from the University of Sto. Tomas bursts with too much confidence, so that she grabs every opportunity to showcase her talent.
ADVERTISEMENT - CONTINUE READING BELOW
"I do Theater Arts before, I can dance, I also play basketball," Mana said quickly, without stumbling. "I also like to dance, sing, host, model. I can't sing as much as I want to, but I will sing if you want me to."
Confidence, for Mana, is an important trait. She even expects to win the competition. "Of course. Because no one will [expect it] if you don't expect yourself to win. You have to believe in yourself because if you don't, no one else will."
Thus, she gives her best to every chance she gets. "I know na yung slot ko na 'to, maraming nag-a-ambition for this. And since I'm already here, I'm gonna make my best. Alam mo 'yon? Since grade four I've been doing commercials and I've learned to love my job," she said.
Several paths are open for Mana—she can pursue hosting, a career in showbiz, or a career as a lawyer.
ADVERTISEMENT - CONTINUE READING BELOW
"But you know, as we go along in our conversation, I pretty much have a bubbly personality and a witty one. So I can think I can sit in with whatever field there is," she said.
MARCO MAÑALAC is a theater actor and a former Nickelodeon host. This 21-year old cum laude graduate from Ateneo is the lead actor in Repertory Philippines' Equus.
Marco told PEP what it feels to star in his first professional play, which will open in July.
"It's overwhelming. It's scary, because as I said earlier I'm very new to theater but people are really supportive, they're very nice," he said. "They teach me everything they know, so I'm slowly getting there, getting more confident. Slowly making progress. But it's still scary. Acting is still new to me."
Marco is not afraid to explore new possibilities. Even if Equus requires a nude scene, Marco did not hesitate to do the play.
ADVERTISEMENT - CONTINUE READING BELOW
He did not hesitate to audition to be a MYX VJ, either. "Because it's the coolest job ever. You get to be with music videos and cool people, like good vibes. It's really the good vibes. You don't have to pretend to be somebody you're not," he said.
He describes himself as a creative person who likes to talk a lot. "I think my family doesn't really make me talk so much. So everytime I get a chance to talk, I talk."
This is why he expects to win the MYX VJ Search 2010. "Yeah. I tell myself before I go to sleep, 'Marco, you're gonna win. You can do this! You can do this!'" he said, half-jokingly.
ROBIN NIEVERA wants to carve out a name for himself in the music industry. The eldest son of singing superstars Martin Nievera and Pops Fernandez, Robin is the vocalist of his indie-rock band Wagyu.
ADVERTISEMENT - CONTINUE READING BELOW
The 21-year old musician now wants to try out being a VJ.
"I've always watched other shows, VJs, you know? It's a fun job. You can be a goof, talk about music, which is what I do on a regular basis," he told PEP.
The competition for Robin is a really fun venture. His fellow finalists think of him as the funniest person in the group—Robin has the funniest jokes, the funniest laugh, and the funniest spiels.
"The only thing I really know how to do is to sing and play guitar. So this is really really something I want to do. Just to talk and make people laugh," he said.
He added, "I don't like memorizing lines. I can't cry on the spot. I just want to make people laugh. I'm really kulit. I look like I'm always on a standstill but I'm really kulit on the camera."
ADVERTISEMENT - CONTINUE READING BELOW
TON VERGEL DE DIOS is a young rockstar. This 21-year old rocker from Quezon City stars in two bands: Hansom and Tonight We Sleep.
"Hansom is with my two brothers, and Tonight We Sleep is with my kabarkadas," he said.
Ton looks like a member of the popular band the Jonas Brothers. The fact that he also wants to be a rockstar helps establish this fact.
"Yes, actually. But we really play instruments," joked Ton. He added that his album with Tonight We Sleep, an alternative band, is already on the works.
"We've been trying to release an album since forever, but finally we're releasing it now," Ton said thoughtfully. "There's this momentum coming and I'm going with it. I'm happy that we're releasing an album and at the same time, I'm doing this MYX thing that I've always wanted to do."
ADVERTISEMENT - CONTINUE READING BELOW
A happy-go-lucky young man, Ton believes he deserves to be the next MYX VJ. "I really think that I should win if anything, because for one thing, I'm a musician as well," he said. "At the same time, I'm also an audience of MYX for forever, I've been watching since I was a little kid. So siyempre talagang nakikita ko kung ano yung dapat nasa top ten, dapat gusto ko rin 'di ba?"
Ton added, "As a musician, MYX should have the street cred that it deserves because, ngayon, almost all the VJs are on the showbiz side. And I think it would help to have someone whose actually in a band."

Watch MYX Music Channel for details on how to vote for your favorite VJ contestant. Voting will run until July 21, 2010.