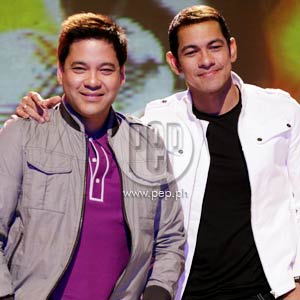 ---
Concert King Martin Nievera and Mr. Pure Energy Gary Valenciano are both certified OPM icons.
Throughout the course of their colorful recording and performing career dating back to the '80s, the two former rivals have proven time and time again their durability and ability to adapt despite the influx of young able singers and performers.
So it was particularly strange to see both Gary and Martin backing out from a challenge when dared to submit themselves to the "stunts" of ABS-CBN's newest singing game show dubbed, Twist and Shout.
"I'd rather be booed onstage," Martin—who will be hosting the program with Gary—frankly admitted during a press conference last June 28 staged at the network's Dolphy Theater.
Gary animatedly described the disposition of the show's first batch of contestants: "Makikita mo talaga bago 'yong first challenge, makikita mo sa mukha nila na 'Sige! Sige! Kaya 'yan!' Pero pagkatapos they'd be like 'Pare, ang hirap nun!'"
SING IF YOU CAN. Twist and Shout is a franchise from the Europe-based production and distribution company, Zodiak Entertainment. The show's format has been adapted and aired in countries like France, India, and Indonesia, with some countries currently exhibiting it under its new title, Sing If You Can.
"No rules and you don't have to be an excellent singer," Martin said about the program.
But that's really the only encouraging part of it all.
Twist and Shout will feature singing contestants who will be required to deliver song numbers for two minutes while simultaneously being subjected to tough challenges like running on a treadmill, spinning while strapped on roulette, or being dipped in ice-cold water, among many others.
ADVERTISEMENT - CONTINUE READING BELOW
"If you're singing for two minutes or trying to sing for two minutes, we try to make it almost impossible for you to finish the task by putting you through what we call as 'distractions.' But it's more of a stunt or an activity that you won't see in any concert," explained Gary.
"Expect the unexpected while 'you're singing," said Martin with a big laugh.
Every episode, two celebrity teams made up of three players will undergo three rounds with random distractions along the way. Each one will take on one round and his only goal is to continue singing and endure the pressure for two whole minutes.
Judging the contestants are acoustic artists Aiza Seguerra and Jimmy Bondoc together with a weekly celebrity guest judge. The three jurors will give the contestants points and the team with the highest grade will enter the final round aptly called the "Turn Table."
The winning team must again sing for two minutes while on top of the rotating circular platform to be able to win the jackpot prize. The timer will stop until a member of the team is still standing and the moment the clock hits two minutes, three lucky audience members inside the studio will divide the P200,000 amongst themselves.
Tapping local celebrities to participate in the game show will only be in its first few runs. Gary said that they are hoping to feature non-celebrities as contestants as the show rolls on.
The local team behind Twist and Shout also modified some of the "heartless stunts and humor" [as Martin puts it] to fit the sensibilities of the Filipino viewers, who are a bit more conservative as compared to their British counterparts.
ADVERTISEMENT - CONTINUE READING BELOW
"We are questioning some of the stunts that may seem a little dangerous and scary for the Filipino viewers," mentioned Martin. "But this show from the beginning, middle, and end is so fun and that you just have to be a good sport."
Twist and Shout will debut this Saturday, July 3, at 8:45 p.m. It will also air every Sunday at the same time slot on ABS-CBN.


(CLICK HERE to view photos taken during the presscon)