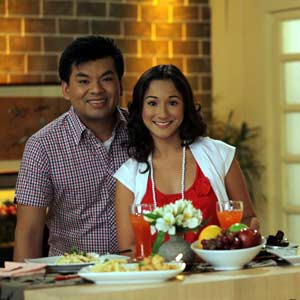 ---
Starting today, July 5, My Favorite Recipes started serving not one, but two interesting and complementing dishes each episode to mark its fourth season.
And because the show now features dishes that have complementing tastes, My Favorite Recipes host China Cojuangco is joined by another excellent chef: her mentor, Chef Gino Gonzalez.
Chef Gino is currently the owner and executive chef of Buenisimo located at the Eastwood Mall. He is also head instructor at the Center for Asian Culinary Studies and executive chef of the multi-awarded Café Ysabel. His line of Café Ysabel specialty products called "Chef Gino's Gourmet" is being offered at popular hypermarts and food markets.
For the first batch of My Favorite Recipes's meal duos this Monday, China and Chef Gino capped off the viewers' binge on the savoury "Roast Chicken with Bacon" with the indulgent "Dulce de Leche Creme Brulee." They also paired up "Pasta Alfredo," a pasta dish named after a Roman restaurateur, with the favorite snack from United Kingdom, "Fish and Chips." China and Chef Gino also showed why an "Herb Crusted Beef Fillet" goes well with "Potato Dauphinoise."
ADVERTISEMENT - CONTINUE READING BELOW
For the rest of the week, the two chefs of My Favorite Recipes will feature these intriguing recipes which will tickle both the palate and the brains with their distinct flavours—"Veal Cutlets with Capers" and "Green Tea Panacotta" on Tuesday, "Prawn Tomato and Saffron Pasta" and "Decadent Mango Mousse" on Wednesday, "Cheesecake Bars" and "Herbed Tuna Casserole" on Thursday, "Hamburger Steak and Gravy" and "Champorado Truffles" on Friday, "Brownies" and "Canelones" on Saturday, and "Fruit Popsicle" and "Crackling Pork with Sweet Mashed Potatoes" on Sunday.
Catch all these and more as My Favorite Recipes doubles the fun and excitement on its new season. My Favorite Recipes airs at these times: Monday to Friday at 10:00 am, 11:40 am, and 6:10 pm; every Saturday at 11:00 am, 1:45 pm, and 5:40 pm; and Sunday at 11:40 am, 5:40 pm, and 8:25 pm, on Q Channel 11.