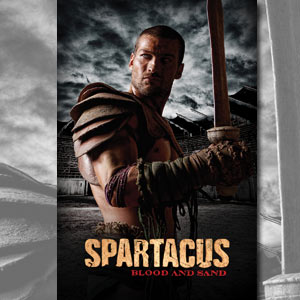 ---
"We are not driven by ratings," said Angela Poh, Senior Executive for Communications of HBO Asia when asked how they measure the success of the cable channel in Southeast Asia.
The HBO Asia executive came to the Philippines two weeks ago to grace the preview of Spartacus:Blood and Sand, a new television series premiering on MAX (Cinemax) and to announce the plans of the cable channel for the second half of the year.
"We are not advertising driven. We don't get ratings on a regular basis. The ratings that we get are for specific shows or timeslots," Angela clarified.
She cited the success of The Pacific, a World War II epic that started showing last April, as being the top English channel in Metro Manila. The Pacific was a 10-episode epic mini-series that was produced by Tom Hanks and Steven Spielberg. (CLICK HERE to read more about this TV series)
"We are able to progress with titles or shows that we like and the way the viewers enjoy them. We are not pressured to put on programming by advertisers to make them happy as well."
She added that HBO Asia is comfortable with their standing in terms of being the premiere cable movie channel in Southeast Asia.
"We get our content from the top four big studios which is Universal, Warner Brothers, Sony and Paramount. Star Movies only get their content from Disney and 20th Century Fox. The big advantage for us is we get the bulk of the programs that come from the Big Four studios.
ADVERTISEMENT - CONTINUE READING BELOW
Angela cited that HBO Asia is able to bring to viewers unique shows.
"The very thing that sets us apart from the other movie channels is the fact that we carry distinct programming that is produced by HBO itself. We are very selective with the titles that come in as well. You see that what we put on HBO, like True Blood or Entourage, everybody here likes it.
"We have a programming team and program acquisitions team that actually takes care and keeps track of what viewers' feedback. We also get feedback from our affiliates [cable providers] as well. We work closely with our affiliates. And these affiliates work closely with our subscribers so we are always aware of what people would want to watch," she said.
She cited the upcoming show, Spartacus: Blood and Sand as an example of a series that people would want to watch but is not produced by HBO.
"It is actually a Starz series [a U.S.-based pay television channel]. We are also bringing in United States of Tara which is a Showtime series [another US-based cable channel]. In that sense we are on track with what people actually are watching and are looking out for. It doesn't necessarily need to be HBO. And we just try our best to bring in titles that will actually work for the market itself.
ON PIRACY. Angela is aware that people can easily go online and download shows from the U.S. immediately after it airs on television but despite this fact, she maintains that people still want to watch their movies on their television sets.
ADVERTISEMENT - CONTINUE READING BELOW
"Nothing beats sitting at home and be in your couch. Yes, there is piracy but we are also trying our best to bring our best titles as far ahead as possible.
"Basically, it's the value of the HBO channel. When you subscribe to our channel, you get a whole array of titles. In the case of The Pacific, we brought in the show as close as possible that we could to the U.S. So, we caught up and we were just like three weeks behind. And we also had subtitles of the show for other Southeast Asia viewers.
"It was also the same for True Blood, we brought in the first season. We're bringing already the second season. We brought in the sixth season of The Entourage at the start of the year and we're bringing in the seventh season at the end of the year," Angela revealed.
ON MAX CHANNEL. Angela differentiated the two familiar channels of HBO Asia and the reason why Spartacus: Blood and Sand was first being brought to MAX instead of HBO.
"MAX is a male-driven channel. You will also see that it will talk to guys. When you're watching interstitials between one program to another, you have one channel that is literally flashing out words. MAX basically has a character of its own and it's own personality. It comments. It berates the movie you just watched. Apart from HBO, it is quite unique from other channels as well," Angela described.
ADVERTISEMENT - CONTINUE READING BELOW
SPARTACUS: BLOOD AND SAND. From the award-winning producers Sam Raimi (Spider-Man), Rob Tapert (The Grudge), Joshua Donen (The Quick and the Dead) and Steven S. DeKnight (Buffy the Vampire Slayer) come the graphic and visceral new series, Spartacus: Blood and Sand.
This epic television series stars Australian actor Andy Whitfield (McLeod's Daughters) as Spartacus, the famous gladiator. John Hannah plays Batiatus, the owner of Spartacus while Lucy Lawless (of Xena: Warrior Princess fame) is cast as Lucretia, the manipulative wife of Batiatus. Peter Mensah plays Doctore, the man who will train Spartacus.


Viewers of Spartacus: Blood and Sand can expect brutal episodes depicting the life of a gladiator who seeks revenge for his wife who was sold into slavery. It is based on a rebel leader who defied Rome in the 1st century B.C. Spartacus has to fight for his survival, befriend his enemies and play politics in a world filled with corruption, violence, sex and fame.
Spartacus: Blood and Sand will premiere this Saturday, July 10, at 10 pm on MAX with two back-to-back episodes weekly. MAX is available on Skycable Channel 36 and Cignal Channel 37 (only available with the Cignal Combo Bundle).