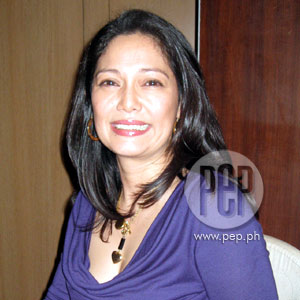 ---
After opening its doors to the gates of heaven, Pilyang Kerubin introduces new characters to the telefantasya as it welcomes Diamond Star Maricel Soriano via a special guest appearance this week.
Truly a class all her own, Maricel breathes life to the character of Regina, a mother who devoted her life to care for abandoned and street children. She lives in a tiny shelter inside a cemetery, next to the tombstone of her daughter.
Behind her innate kindness is a shady past unknown to many. Up to now, Regina's conscience continues to haunt her over the loss of her two daughters. Penniless, she was forced to sell her youngest child when the eldest suffered from severe sickness. All efforts to save her failed. Her daughter died.
At present, the cemetery becomes Regina's permanent dwelling. Aside from her motherly duties to the homeless children, she is saving up money to find her long lost child.
As Regina sets forth on her mission, she will be guided by two little angels who will guard and guide her to the right direction.
How will the paths of Regina and Charity intertwine? Will Regina find peace in her heart and reunite with her daughter?
Catch Maricel Soriano as she showcases her acting prowess in Pilyang Kerubin, Monday to Friday right after 24 Oras on GMA-7.