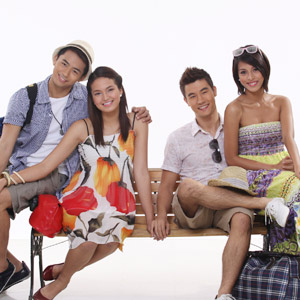 ---
The wait is all worth it for StarStruck V finalists Diva Montelaba, Enzo Pineda, Steven Silva, and Sarah Lahbati.
Months after competing for the "Ultimate Survivor" throne (eventually won by Steven and Sarah), the four celebrities reunite for their maiden full-length acting stint via GMA-7's Sunday romance offering, Lovebug.
Titled "Exchange of Hearts," the episode will bring to light all the preparations, acting workshops, and lessons learned by the youngsters in the hands of professional coaches led by award-winning actress-director Gina Alajar.
"Meron pong times na nakaka-intimidate si Direk Gina pero all throughout our workshop naman po nag-enjoy naman po kami and marami talaga kaming natutunan na hopefully mapakita po namin dito," Diva told PEP (Philippine Entertainment Portal) last July 12 at Congo Grill on Tomas Morato, Quezon City.
"We're very thankful na ito na po finally 'yong project na hinihintay namin," Sarah said about the project. "Thankful ako dahil kaming apat 'yong magkakasama sa unang project na ibinigay sa amin si Enzo, Steven at Diva ang kasama ko so wala na pong ilangan kasi magkakakilala na po kami."
ISLAND PARADISE. "Exchange of Hearts" was shot entirely in the scenic island of Camiguin--following the program's tradition of picking locations outside Manila just like past episodes "The Last Romance" (Hong Kong) and "Wish Come True" (Singapore).
The pristine beauty of Camiguin caught the fascination of the production team according to program manager Hazel Abonita. They were after all looking for a location that would perfectly complement the plot of young vacationers finding love while on holiday.
ADVERTISEMENT - CONTINUE READING BELOW
Diva cited that the picturesque location helped them to "emote" while Sarah mentioned that the appealing backdrop made them feel relaxed and "sometimes forget that we were actually working on our first show."
Director Andoy Ranay was entrusted oversee the youngsters and was reportedly satisfied with the performance of the four StarStruck graduates.
LOVE HOLIDAY. Rachel (Sarah) and Tim (Steven) are childhood friends with their respective parents hoping that a romantic relationship would blossom between the two.
In reality, however, Rachel is committed to Emil (Enzo) while Tim has Barbie (Diva) as his girlfriend.
Rachel's mother then conspires with Tim's mother to set up the two by sending them to Camiguin for a vacation. At first, Rachel and Tim would always argue but the more they spend time together, the more Tim falls in love with Rachel.
Meanwhile, Barbie and Emil pursue their respective loves around Camiguin. Barbie and Emil eventually find themselves falling for each other.
Soon, the four finally meet: Rachel is now in love with Tim and Barbie falls for Emil.
Will they be ready to embrace a new love? Will the four find fulfillment in the arms of their accidental partners? What happens now that they have already new loves? Will they choose to be with the one they really love or settle instead with the person they're now with?
ACTING OUT THE PART. Portraying the role of Rachel was a big challenge for Sarah mainly because she never experienced how it feels to actually have a boyfriend in real life. But there's where all those past acting workshops come into play.
ADVERTISEMENT - CONTINUE READING BELOW
"Ako 'yong role ko dito nerd na nagkakaroon ng problema sa love life pero sa totoong buhay hindi naman. I'm only sixteen and wala akong masyadong experience sa love life so medyo nahirapan din po ako sa role pero pinaghandaan ko po 'yon," explained the Switzerland-raised model-actress.
Sarah admitted that she's not yet ready to do kissing scenes in front of the camera. But for the Lovebug series, the StarStruck V winner intriguingly teased, "Abangan ninyo 'yan!"
Catch the newest offering of Lovebug titled "Exchange of Hearts" beginning this Sunday afternoon, July 18, on GMA-7.
SHARE THIS STORY Lovebug" data-url="https://www.pep.ph/guide/tv/6419/starstruck-v-final-four-debut-in-exchange-of-hearts-episode-of-lovebug" data-desc="This will mark the acting debut of Enzo Pineda, Sarah Lahbati, Steven Silva, and Diva Montelaba." data-image="https://contents.pep.ph/images2/guide/8a259b125.jpg"> Lovebug" data-url="https://www.pep.ph/guide/tv/6419/starstruck-v-final-four-debut-in-exchange-of-hearts-episode-of-lovebug" data-desc="This will mark the acting debut of Enzo Pineda, Sarah Lahbati, Steven Silva, and Diva Montelaba." data-image="https://contents.pep.ph/images2/guide/8a259b125.jpg"> Lovebug" data-url="https://www.pep.ph/guide/tv/6419/starstruck-v-final-four-debut-in-exchange-of-hearts-episode-of-lovebug" data-desc="This will mark the acting debut of Enzo Pineda, Sarah Lahbati, Steven Silva, and Diva Montelaba." data-image="https://contents.pep.ph/images2/guide/8a259b125.jpg">
SHARE THIS STORY
Lovebug" data-url="https://www.pep.ph/guide/tv/6419/starstruck-v-final-four-debut-in-exchange-of-hearts-episode-of-lovebug" data-desc="This will mark the acting debut of Enzo Pineda, Sarah Lahbati, Steven Silva, and Diva Montelaba." data-image="https://contents.pep.ph/images2/guide/8a259b125.jpg"> Lovebug" data-url="https://www.pep.ph/guide/tv/6419/starstruck-v-final-four-debut-in-exchange-of-hearts-episode-of-lovebug" data-desc="This will mark the acting debut of Enzo Pineda, Sarah Lahbati, Steven Silva, and Diva Montelaba." data-image="https://contents.pep.ph/images2/guide/8a259b125.jpg"> Lovebug" data-url="https://www.pep.ph/guide/tv/6419/starstruck-v-final-four-debut-in-exchange-of-hearts-episode-of-lovebug" data-desc="This will mark the acting debut of Enzo Pineda, Sarah Lahbati, Steven Silva, and Diva Montelaba." data-image="https://contents.pep.ph/images2/guide/8a259b125.jpg"> Lovebug" data-url="https://www.pep.ph/guide/tv/6419/starstruck-v-final-four-debut-in-exchange-of-hearts-episode-of-lovebug" data-desc="This will mark the acting debut of Enzo Pineda, Sarah Lahbati, Steven Silva, and Diva Montelaba." data-image="https://contents.pep.ph/images2/guide/8a259b125.jpg">