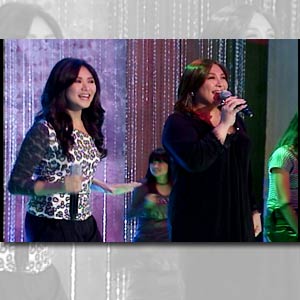 ---
POP PRINCESS SARAH GERONIMO BONDS WITH MEGASTAR SHARON CUNETA. This Sunday night on Sharon, viewers will be get a musical treat from two of the country's OPM royalties: Megastar Sharon Cuneta and Pop Princess Sarah Geronimo.


Aside from heart pounding production numbers, Sarah will also share an intimate chat with Mega as they talk about her life, family, showbiz career and new movie Hating Kapatid, which she co-stars with Teleserye Queen Judy Ann Santos.


The Pop Star Princess will also get to share the stage with fellow ASAP performer Erik Santos and, of course, the Megastar. Watch this special "Pop Star" episode this Sunday night, July 18, on ABS-CBN's musical variety show Sharon, airing right after Rated K.
SHARE THIS STORY Sharon this Sunday, July 18" data-url="https://www.pep.ph/guide/tv/6424/sarah-geronimo-will-topbill-pop-star-episode-of-sharon-this-sunday-july-18" data-desc="Prince of Pop Erik Santos will also guest in Sharon Cuneta's show." data-image="https://contents.pep.ph/images2/guide/b069279b7.jpg"> Sharon this Sunday, July 18" data-url="https://www.pep.ph/guide/tv/6424/sarah-geronimo-will-topbill-pop-star-episode-of-sharon-this-sunday-july-18" data-desc="Prince of Pop Erik Santos will also guest in Sharon Cuneta's show." data-image="https://contents.pep.ph/images2/guide/b069279b7.jpg"> Sharon this Sunday, July 18" data-url="https://www.pep.ph/guide/tv/6424/sarah-geronimo-will-topbill-pop-star-episode-of-sharon-this-sunday-july-18" data-desc="Prince of Pop Erik Santos will also guest in Sharon Cuneta's show." data-image="https://contents.pep.ph/images2/guide/b069279b7.jpg">
SHARE THIS STORY
Sharon this Sunday, July 18" data-url="https://www.pep.ph/guide/tv/6424/sarah-geronimo-will-topbill-pop-star-episode-of-sharon-this-sunday-july-18" data-desc="Prince of Pop Erik Santos will also guest in Sharon Cuneta's show." data-image="https://contents.pep.ph/images2/guide/b069279b7.jpg"> Sharon this Sunday, July 18" data-url="https://www.pep.ph/guide/tv/6424/sarah-geronimo-will-topbill-pop-star-episode-of-sharon-this-sunday-july-18" data-desc="Prince of Pop Erik Santos will also guest in Sharon Cuneta's show." data-image="https://contents.pep.ph/images2/guide/b069279b7.jpg"> Sharon this Sunday, July 18" data-url="https://www.pep.ph/guide/tv/6424/sarah-geronimo-will-topbill-pop-star-episode-of-sharon-this-sunday-july-18" data-desc="Prince of Pop Erik Santos will also guest in Sharon Cuneta's show." data-image="https://contents.pep.ph/images2/guide/b069279b7.jpg"> Sharon this Sunday, July 18" data-url="https://www.pep.ph/guide/tv/6424/sarah-geronimo-will-topbill-pop-star-episode-of-sharon-this-sunday-july-18" data-desc="Prince of Pop Erik Santos will also guest in Sharon Cuneta's show." data-image="https://contents.pep.ph/images2/guide/b069279b7.jpg">