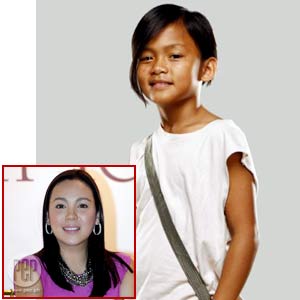 ---
A heartwarming story about an unlikely friendship between a teacher and a student takes the spotlight in the July 24 episode of Claudine. Two-time Metro Manila Film Fest Best Child Performer Robert "Buboy" Villar joins Claudine Barretto in this episode titled "Teacher's Pest."
Claudine, who has a soft spot for children, was particularly eager to portray her role as a teacher. "It's always refreshing to be around kids. Their energy is simply infectious and brings about positive vibes on the set," shares Claudine. "It's such a pleasure working with Buboy. He's very professional and mature for his age. I invite everyone to catch this episode because everything about it, the story, the script, is really uplifting."
Claudine is Anne a grade school teacher whose marriage is about to fall apart. On her way home, she was surprised to see Borgy (Buboy Villar), a problem student in one of her classes, sleeping on the street. She single-mindedly takes the homeless boy into her own house, and in the process forms a special bond with him. In return, Borgy provides Anne with the inspiration to find the missing pieces in her life.
Also in the cast are Paolo Contis, Lian Paz and Carlene Aguilar.
Directed by Argel Joseph, this Claudine episode airs this Saturday, July 24, after the new action-packed sitcom Kaya Ng Powers on GMA-7.
SHARE THIS STORY Claudine" data-url="https://www.pep.ph/guide/tv/6469/robert-buboy-villar-plays-a-homeless-boy-in-claudine" data-desc="Buboy portrays a problem student in the episode titled "Teacher's Pest."" data-image="https://contents.pep.ph/images2/guide/faa089920.jpg"> Claudine" data-url="https://www.pep.ph/guide/tv/6469/robert-buboy-villar-plays-a-homeless-boy-in-claudine" data-desc="Buboy portrays a problem student in the episode titled "Teacher's Pest."" data-image="https://contents.pep.ph/images2/guide/faa089920.jpg"> Claudine" data-url="https://www.pep.ph/guide/tv/6469/robert-buboy-villar-plays-a-homeless-boy-in-claudine" data-desc="Buboy portrays a problem student in the episode titled "Teacher's Pest."" data-image="https://contents.pep.ph/images2/guide/faa089920.jpg">
SHARE THIS STORY
Claudine" data-url="https://www.pep.ph/guide/tv/6469/robert-buboy-villar-plays-a-homeless-boy-in-claudine" data-desc="Buboy portrays a problem student in the episode titled "Teacher's Pest."" data-image="https://contents.pep.ph/images2/guide/faa089920.jpg"> Claudine" data-url="https://www.pep.ph/guide/tv/6469/robert-buboy-villar-plays-a-homeless-boy-in-claudine" data-desc="Buboy portrays a problem student in the episode titled "Teacher's Pest."" data-image="https://contents.pep.ph/images2/guide/faa089920.jpg"> Claudine" data-url="https://www.pep.ph/guide/tv/6469/robert-buboy-villar-plays-a-homeless-boy-in-claudine" data-desc="Buboy portrays a problem student in the episode titled "Teacher's Pest."" data-image="https://contents.pep.ph/images2/guide/faa089920.jpg"> Claudine" data-url="https://www.pep.ph/guide/tv/6469/robert-buboy-villar-plays-a-homeless-boy-in-claudine" data-desc="Buboy portrays a problem student in the episode titled "Teacher's Pest."" data-image="https://contents.pep.ph/images2/guide/faa089920.jpg">