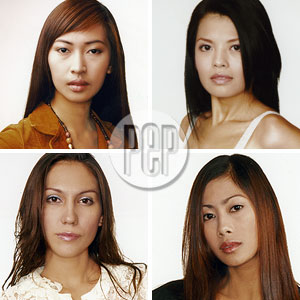 ---
In the tenth episode of Philippines' Next Top Model, showbizpersonality Joey Mead visited the fourremaining finalists—Rina, Elvira, Grendel and Jen—at the PNTM house to give them a workshop on casting, and to share withthem some advice on how to prepare for a gosee.
After the workshop, the girls were brought tothe House of Laurel for theirchallenge: a mock-up go see with oneof the acclaimed fashion designers in the country, Rajo Laurel. The four girlswere instructed to show off their top model attitude while wearing a highfashion glamour gown. Right after the walk-off, the girls were interviewed byRajo and gave them their hits and misses on their go see performance.
In this challenge, Grendel stood out yetagain, making her the only finalist to win a challenge three times in a row. Asa reward, Rajo Laurel gave her a gift certificate courtesy of House of Laurel.
The following day, Ruffa texted the girls togear up for their tenth location photo-shoot. They were treated to a Brazilianwax at Laybare Salon before heading for Batangas. In Laiya Beach Resort, they posed for anexotic swimwear photo-shoot that followed the concept "Jewel at the Sea."
After the session, the four finalists facedthe panel of judges: Wilma Doesnt, Robbie Carmona, Xander Angeles, Vince Uy,and Ruffa Gutierrez-Bektas at the CelebritySports Plaza for their performance evaluation and elimination round.During the performance evaluation only Elvira got a positive remark from thejudges, while Rina and Grendel found themselves at the bottom two. Fortunately,for the first time in the whole stretch of competition, none of them got theboot.
ADVERTISEMENT - CONTINUE READING BELOW
The competition gets tougher as PNTM countsdown to its grand season finale this June 12. Who among the girls will be namedthe Philippines' Next Top Model?
Don't fail to watch the next episode when
Philippines' Next Top Model
host Ruffa gives you a recap of the show's highlights and sidelights.
PNTM
airs every Tuesday, 8:30 - 9:30 p.m. on RPN-9.