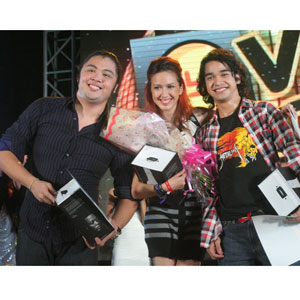 ---
MYX music channel finally revealed the winners of the MYX VJ Search 2010 last July 21 at the SM Mall of Asia. Among the 12 finalists, 18-year-old red-haired college student Julz Savard; 21-year-old pretty boy rocker Ton Vergel De Dios and 21-year old musician Robin Nievera were chosen as the newest music ambassadors of MYX. The new VJs were awarded with 'Beats by Dr. Dre' headphones; shopping spree; gift certificates and the much coveted six-month contract with MYX.
Described as a "diverse combination," MYX Channel Head Andre Allan Alvarez shared excitement over the new things that the winners of this year's MYX VJ Search will bring to the channel. "The three make a good combination. They have very distinct personalities and different types of sense of humor. But they're all musically inclined."
Alvarez added that Julz, Ton and Robin are those VJs that the viewers can easily relate to. "Ton is a musician and a fan of MYX ever since he was a kid. And I think he brings the point of view of the typical MYX fan/viewer. So, we're hoping that the fans watching in TV can easily connect with Ton. Julz brings a lot of spunk. Her in-your-face attitude is something that a lot of boys and girls can easily identify with and she's able to project it in a way that looks classy and intense. Robin has a very unique stance. His personality is quite different from the others. His sharp wit and deadpan humor will add something new for our viewers. They really make a very interesting bunch! We've never had this kind of combination before. And I think everyone will be bringing something that's unique."
ADVERTISEMENT - CONTINUE READING BELOW
In an exclusive backstage interview, fresh from their success, the three MYX VJ Search 2010 winners impart their thoughts about their newfound stardom. And Julz, Ton and Robin were in united in saying that winning the MYX VJ Search was a dream come true.
Julz, the red-haired creative writing student from the Ateneo de Manila University revealed that she had been dreaming of becoming a VJ since she was 14. "When I joined I was like telling myself, 'This is it! It's my chance' and now I got it! I'm really so happy! I think the public voted for me because they just like the true me. The hair could've helped. But I think it's really the personality that I brought with everything else. Now that I'm on MYX, they can expect a lot of laughter, a lot of joy, and a lot of smiles to all the MYX viewers."
As for Ton, the communication student who is also from Ateneo, he just want to savor the moment. "This is something I really want. I've been a fan of MYX since I was knee-high. And now that I'm officially part of it, I'm just so thankful and excited. Now that I'm here, I'm gonna bring more attitude and more rock 'n roll in MYX!"
And for Robin, who's into music production in De La Salle College of Saint Benilde, he said that he will just going to give his all. "I'm gonna give whatever I can give, which is my randomness and my dad's wit and my mom's quick mouth whatever that means. To my supporters, thank you so much. You have no idea how much this means to me. I'm gonna make it up by speaking in Tagalog soon."
ADVERTISEMENT - CONTINUE READING BELOW
When asked about the risk of being compared to his celebrity parents, Pop Fernandez and Martin Nievera, Robin quickly responded, "I know all of you guys will compare me to my parents. People will say that I'm just their shadow. But this is not about shadows. It's not even about me following my dad. I really enjoy doing the music scene: singing, writing and hosting. This is gonna be something that I really wanna do."
The grand finals was hosted by current MYX video jocks Iya Villania, Nikki Gil, Robi Domingo, Chino Lui-Pio, Bianca Roque, Nel Gomez, and Janine Ramirez. Audiences were treated to live performances from Sponge Cola, Pilipinas Got Talent finalist Markki Stroem, Tanya Markova and from the 12 MYX VJ Search finalists themselves. Also gracing the event were Pinoy Big Brother Teen Clash of 2010 housemates James Reid, Ryan Bang, Ann Li and Ivan Dorschner, who supported their fellow housemate Bret Jackson who was introduced to the public as MYX's Guest VJ for three months.
Courtesy of the MYX VJ Search 2010 sponsors, special awards were given out to the finalists. Mana Manalaysay was the "Garnier Fresh Face of the Night;" Kirsten Rice, "Charmee Girl of the Night" and Ton as "SM S3's Stylista Challenge Winner."
Catch the special programs dedicated to the MYX VJ Search 2010 via MYX on Sky Cable Ch. 23 and on Studio 23. MYX is available on SkyCable Gold, SkyCable Silver and other quality cable operators nationwide. Catch it on Studio 23 or contact your local cable operator.
ADVERTISEMENT - CONTINUE READING BELOW