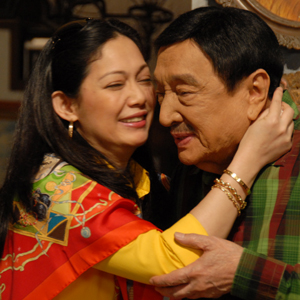 ---
The King of Comedy reunites with his on-screen daughter, Ms. Maricel Soriano, on his birthday special in TV5's comedy-fantasy show Pidol's Wonderland. The Diamond Star shows up to greet the Comedy King who is turning 82 on July 25.
Dolphy and Maricel played father and daughter John and Shirley in the hit family sitcom during the '80s, John en Marsha. They later starred in a spin-off series John en Shirley, sixteen years after their first sitcom signed off on TV. Already working with the Comedy King ever since she was a "baby" in showbiz, the Diamond Star has found a father in Dolphy, whom she calls dad in real life.
The two showbiz stalwarts had seemingly missed their bond while exchanging stories off-cam during their taping.
Pidol's Wonderland retells the tales and legends fit for the whole family. Dolphy's character Mang Pidol, an antique collector/curio shop owner, serves as a storyteller to kids and folks. The show is also an extension of the bond among the Quizons as his real life sons Epi and Vandolph play the same role, while Eric directs the show. Jenny, his daughter-in-law, is also part of the sitcom.
Graced by Joross Gamboa, IC Mendoza and some of Dolphy's loved ones, The TV reunion/birthday special airs this Sunday (July 25), 6:30-7:30 p.m., before Talentadong Pinoy on TV5.