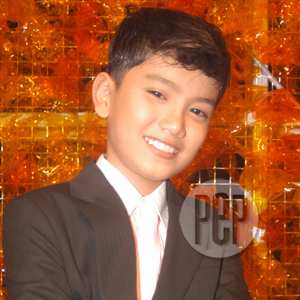 ---
Last Saturday, May 12, wasdeclared as "Mr. Heartsong Day." ABS-CBN's Studio 10 was swarmed by avid fansof Joshua, Ronald and Trina but in the end, only one name emerged as the firstever Little Big Superstar...Ronald Jaimeer!
Little Big Superstar started with ten finalists, but onlythree proved themselves worthy to perform on the Grand Finals: "D' Beat Boy"Joshua Cadelina, "Mr. Heartsong" Ronald Jaimeer and "Golden Voice" TrinaAlcantara.
"The Super Battle: Final Step toStardom" was a feast for the eyes when the Little Big Stars (winners of LBSSeasons 1 and 2) performed a Disney-themed number. The Super 3 took centerstage as they sang two rounds of fast and slow songs. But the real star wasRonald after sweeping the votes of star judges Angelika dela Cruz, JoyceBernal, Louie Ocampo, director Wenn Deramas and Randy Santiago;musician/back-up singer and record Clickers and, of course, the text-voters.
Before the Slow Song challengecommenced, the next Lucky Me star was announced, with Joshua taking home theP100,000 special cash prize as well as a contract for the next commercial ofthe said noodle brand. Another special portion included that afternoon was aperformance by the contestants for their moms in time for Mother's Day,touching both kids and moms alike!
Mr. Heartsong got emotional whenhis name was called as the winner of Little Big Superstar. But the realwinner was his mother as she hugged his son with pride. Like her son, she couldnot hold back her tears of joy for the young crooner.
ADVERTISEMENT - CONTINUE READING BELOW
Ronald, the little boy whopatiently commutes to and from Agoncillo, Batangas, first tried to penetratethe music industry by joining Little Big Star. After rocking the stagewith his rendition of the '80s hit "Gold" and making everyone cry with hisrendition of "The Promise" by Martin Nievera, everyone was convincedthat he is indeed worthy to be called the Little Big Superstar.
"Mr. Heartsong" became the LittleBig Superstar grand champion, after garnering a score of 91.4%. His competitor Joshua received a score of 90% while Trina followed closely with her score of 89.1%.
Ronald isn't just an 11-year-old millionaire, he is also aproud house and lot owner as well as the first ever Little Big Superstar.