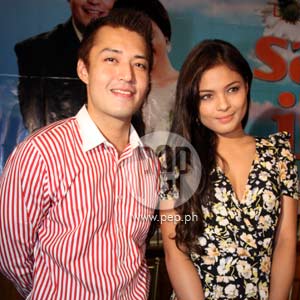 ---
Sunday afternoon viewers will see more of Lovi Poe for the weeks to come. Aside from being a regular of the noontime musical variety show Party Pilipinas, the 21-year-old actress is also the female lead of GMA-7's Lovebug presents "Say I Do."
It was initially announced that Lovi and Starstruck graduate Rocco Nacino would be paired together in a Lovebug mini-series that was supposed to be shot in Cambodia. Their episode titled "Hearts Don't Lie" was later shot in Palawan instead of outside the country.
GMA-7's management, however, opted to exhibit first the tandem of Lovi with Mark Anthony Fernandez in "Say I Do."
"Nag-tape na ako with Rocco and then nagulat din nga ako when they told me na meron pa kong isa--this time nga with Mark Anthony," Lovi told PEP (Philippine Entertainment Portal) last August 24 at the Executive Lounge of the GMA Network Center in Quezon City.
She added, "But I'm really happy and grateful because Mark, as we all know, is a great actor and he's great to work with."
Lovi loves watching romantic-comedy films, and she's particularly happy that she's doing one this time with "Say I Do," albeit only on television and not the big screen.
Lovebug has been known to feature foreign countries in its past episodes, as seen in "The Last Romance" (Hong Kong) and "Wish Come True" (Singapore). This new offering, however, follows the lead of its predecessor, "Exchange of Hearts," which was shot entirely in the province of Palawan.
"Hindi naman kami nagtampo dahil hindi kami nag-out of the country," smiled Lovi. "For this episode, sa Antipolo and Batangas ang location namin and maganda naman. Siyempre kailangan din naman nating ipakita 'yong ganda ng bansa natin. And the story is cute and I'm sure naman na magugustuhan ng mga viewers regardless kung saan 'yong location namin."
ADVERTISEMENT - CONTINUE READING BELOW
Joining Lovi and Mark in "Say I Do" are Joey Marquez, Carmi Martin, Janelle Jamer, Rox Montealegre, Zeryl Lim, and Dion Ignacio. Indie film director Jay Altarejos directs the show, while Roy Iglesias serves as creative consultant. Head writer Kit Langit is joined by fellow writers Rona Sales and Denoy Navarro-Punio.
SYNOPSIS. Alvin (Mark Anthony Fernandez) is madly in love with Faye (Lovi Poe) and he immediately asks for her hand in marriage. They feel that they are perfect for one another and decide to get hitched as soon as possible.
Despite the separation of his parents, Alvin still keeps in touch with his father and mother and invites them to the wedding. He just wants both of them to be there during the most important day of his life.
Little did he know that the plan to reunite his estranged parents causes a big chaos on his big day. Chona (Carmi Martin) arrives drunk at the wedding and causes a scene, much to Alvin's dismay.
As the newlywed couple celebrate their honeymoon, Ulyses (Joey Marquez) and Chona arrive to apologize for what happened. Alvin tells the two to settle whatever issues they have once and for all. They comply with his request and in no time, Ulyses and Chona renew their love for each other.
But Alvin is against the reunion of his parents. He wants to save her mom from the heartache she went through before. He also discovers that Faye helps to reconcile Ulyses and Chona. They end up fighting and realize the differences in their respective personalities and family lives.
Will Ulyses and Chona continue their romance and start anew? Will this pair of love birds eventually end up at the altar? Is love truly sweeter and lovelier the second time around?
Catch the debut of Lovebug presents "Say I Do" this coming Sunday, August 29, after Party Pilipinas on GMA-7.
ADVERTISEMENT - CONTINUE READING BELOW
SHARE THIS STORY Lovebug" data-url="https://www.pep.ph/guide/tv/6694/lovi-poe-and-mark-anthony-fernandez-say-i-do-in-gma-739s-lovebug" data-desc="The four-part romantic-comedy series will debut this Sunday, August 29." data-image="https://contents.pep.ph/images2/guide/d6ea35479.jpg"> Lovebug" data-url="https://www.pep.ph/guide/tv/6694/lovi-poe-and-mark-anthony-fernandez-say-i-do-in-gma-739s-lovebug" data-desc="The four-part romantic-comedy series will debut this Sunday, August 29." data-image="https://contents.pep.ph/images2/guide/d6ea35479.jpg"> Lovebug" data-url="https://www.pep.ph/guide/tv/6694/lovi-poe-and-mark-anthony-fernandez-say-i-do-in-gma-739s-lovebug" data-desc="The four-part romantic-comedy series will debut this Sunday, August 29." data-image="https://contents.pep.ph/images2/guide/d6ea35479.jpg">
SHARE THIS STORY
Lovebug" data-url="https://www.pep.ph/guide/tv/6694/lovi-poe-and-mark-anthony-fernandez-say-i-do-in-gma-739s-lovebug" data-desc="The four-part romantic-comedy series will debut this Sunday, August 29." data-image="https://contents.pep.ph/images2/guide/d6ea35479.jpg"> Lovebug" data-url="https://www.pep.ph/guide/tv/6694/lovi-poe-and-mark-anthony-fernandez-say-i-do-in-gma-739s-lovebug" data-desc="The four-part romantic-comedy series will debut this Sunday, August 29." data-image="https://contents.pep.ph/images2/guide/d6ea35479.jpg"> Lovebug" data-url="https://www.pep.ph/guide/tv/6694/lovi-poe-and-mark-anthony-fernandez-say-i-do-in-gma-739s-lovebug" data-desc="The four-part romantic-comedy series will debut this Sunday, August 29." data-image="https://contents.pep.ph/images2/guide/d6ea35479.jpg"> Lovebug" data-url="https://www.pep.ph/guide/tv/6694/lovi-poe-and-mark-anthony-fernandez-say-i-do-in-gma-739s-lovebug" data-desc="The four-part romantic-comedy series will debut this Sunday, August 29." data-image="https://contents.pep.ph/images2/guide/d6ea35479.jpg">