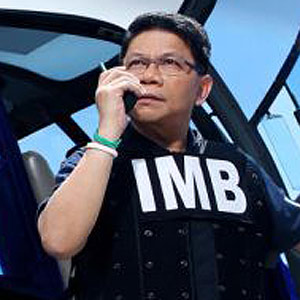 ---
Ten years ago, GMA News and Public Affairs put together Imbestigador, a show that will not only expose corruption and air grievances of the oppressed, but will take concrete action against guilty parties.
One of GMA-7's longest-running Public Affairs flagship programs, Imbestigador has gone a long way as proven by the awards that it has received in the past decade.
Hosted by GMA News pillar and veteran broadcast journalist Mike Enriquez, Imbestigador took investigative reporting to the next level by providing tangible and immediate solutions to victims of injustices, mostly ordinary Filipinos who have lost hope.
This Saturday's special episode, A Decade of Imbestigador celebrates ten unforgettable years of investigative reporting. From the time the show was launched, the phrase "Hindi ka namin tatantanan!" has been the show's famous battle cry. Since then, it has also become the show's mission: to relentlessly help victims of exploitation and bring those accountable to justice.
Because of the increasing number of persons who turn to Imbestigador, the show established its own Action Center, now known as the Sumbungan ng Bayan Office. The center is open 5 days a week to receive complaints, which in turn are channeled to different agencies. Free legal clinics all over the country are also organized by the Sumbungan ng Bayan Office in order to augment the program's public service.
With more than 500 episodes, 2,000 stories, and over 100,000 people helped, Imbestigador made true to its promise. With the help of different agencies, infamous characters were caught red-handed and put to jail, big-time syndicate groups busted, and countless women and children were spared from danger and exploitation. But aside from conducting rescues and operations, the Kapuso show also probed into problems of national concern. Big-time government corruptions were exposed and lifestyle checks of suspected anomalous government officials were performed.
ADVERTISEMENT - CONTINUE READING BELOW
Imbestigador's special anniversary episode airs this Saturday, October 2, on GMA-7.