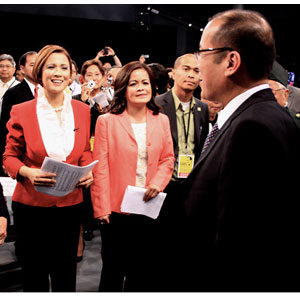 ---
On his last day in the United States, President Benigno "Noynoy"Aquino III held a live town hall forum with global Filipinos through the facilities of The Filipino Channel (TFC) at ABS-CBN International's studio in Redwood Shores. Hosted by Balitang America's Gel Santos-Relos, North America News Bureau Chief Ging Reyes, and Adobo Nation's Karmina Constantino, the program was aired live globally on ANC (ABS-CBN News Channel) and gave overseas Filipinos an opportunity to address their concerns directly to President Aquino.
The president's audience included Filipinos from Northern California, London, Tokyo and Dubai, as well as from New Jersey, Los Angeles and Toronto, Canada. ABS-CBN Global used state-of-the-art satellite and video conferencing facilities to connect overseas Filipinos with Aquino for his first-ever town hall meeting as President.
The online community and TFCNow was also part of the hour-long conversation with the President.
President Aquino shared with the Filipino communities the good news about his first trip to the United States. As Manolo Lopez, Chairman of the Lopez Group of Companies, put it, "The president did not just eat hamburgers and hotdogs in the US. He also brought home the bacon."
Together with the $434 million grant from the Millennium Challenge Corporation, President Aquino told his audience that he received nearly $2.8 billion in pledges and investment commitments from US businessmen.
However, President Aquino refused to rate his performance on his first foreign trip, saying, "Mahirap ho namang mag-grade dahil tinuruan ho tayo ng humility, dapat maging humble. Baka ho yung tatay at nanay ko nanonood ngayon, batukan ako pag nagyabang."
The President answered questions from the audience ranging from the prosecution of his predecessor, human trafficking, immigration reforms, veterans equity, to jobs and population control.
The Chief Executive assured that his administration is cracking down on human trafficking syndicates, while giving priority to helping OFWs currently on death row in the Middle East. However, President Aquino said he was not inclined to give in to requests to set up a separate department of OFWs. There are enough agencies, the president explained, that should just improve their coordination and performance. "I respect the OFW community pero parang failure ho ng bansa kung parating lalabas ang mga mamamayang yan. Dapat ho kung aalis ng bansa dahil gusto, imbes na napilitan. Kung gagawa ng department of OFWs parang nanigurado na tayo na wala na talagang mangyayari sa atin," he said.
ADVERTISEMENT - CONTINUE READING BELOW
The President said he would look into the possibility of raising humanitarian grounds to address the crackdown on illegals in the United Kingdom. But he drew the line at asking for legalization of undocumented immigrants. "Paano ho ba, ako lalapit kay Barack Obama at sabihin ko, puwede ba yung ibang illegal immigrants bahala ka na, pero yung sa amin baka puwede pagbigyan mo na? At a point in time when there is so much loss of jobs and closing down of businesses, this is the wrong time to appeal at para nga hong wala sa lugar," said President Aquino.
Still, he assured that there are skills retraining program for those who may be deported back into the country.
The President also challenged the Filipino community in the U.S. to unite and become a force in their adopted country. "United, I think nothing can stop us, but divided, we're just a joke," said the President.
There were some light moments too, as the President answered personal questions. When asked what kind of music does he have in his iPod, he revealed, "Halo-halo ho. May OPM, konting broadway, may disco, trance, may house. Mamili ho kayo, except rap."
When asked to identify who helped him pack his suitcases for this trip, he candidly shot back: "Sinong nag-impake? Meron akong kasambahay, si Yoly, matagal na sa akin. Pero dahil kumakatawan tayo sa Pilipinas, mga kaibigan ng kapatid kong si Kris [Aquino], sina Paul Cabral at tumulong din mag-style si Liz Uy, para pagdating dito maayos-ayos po ang itsura at di naman tayo masyadong gusgusin humarap sa UN at mga pagkalalaking kumpanyang hinihikayat natin sa Pilipinas."
For his first global conversation with kababayans, many participants, including those from the chat rooms gave the president high marks for straightforward answers, his candor, wit and humor.
ADVERTISEMENT - CONTINUE READING BELOW
MC Canlas of San Francisco said, "[The town hall meeting] did an amazing job of educating the Filipinos worldwide. Its impact will be felt for a long, long time." Gemma of Daly City pointed out, "Proud to be Pinoy and proud to have you as our president!"
There was room for introspection as well. Though he felt he was not given a honeymoon period, President Aquino said he has learned to roll with the punches. "If we have shortcomings and it's pointed out to us, good. And we will correct and will try to perfect ourselves. I know what I do not know and I will seek to know."