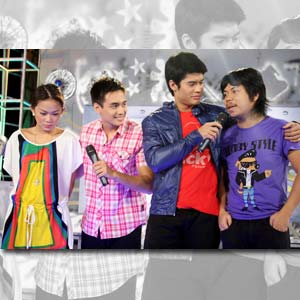 ---
The fun never stops in TV5, as it delivers fun wrapped in different ways every night.
For instance, every Friday at 8 pm, laugh hard with TV5's riotous gag show LokomokoU. Attendance is a must as the comedy academy showers your Friday nights with happenings you wouldn't dare miss.
The 12 Shining Stars of TV5's first-ever star search Star Factor are set to make their first TV guesting in LokomokoU's "Japanese KTV" segment.
Meanwhile, relate with Blue's (Empoy Marquez) triumph and loss in "Bahaw: Ikalawang Hain," the telenovela spoof that continues to make Filipinos cry with laughter.
Contestants' outpouring wits will outmatch their lack of IQ in "Pinoy Brainless" with JC de Vera and Rainier Castillo.
Stone Age will never be this cool as primitives make equally "jurassic" inventions in "BC Bisihan."
Indeed, Friday nights are now ten times happier with LokomokoU, 8 pm on TV5.