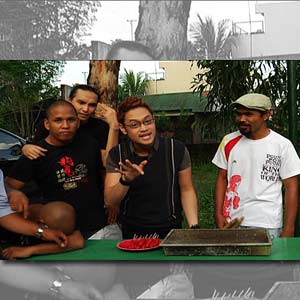 ---
Since it started last September 6 on TV5's Primetimes5, Wow Meganon?! has been providing a light-hearted alternative for those who are tired of everyday drama.
Inspired by the Pinoy-style "gudtayms" of TV5's Wow Mali, the new Wow Meganon?! has introduced better segments, add-on characters and all-new pranks with all-time funnyman Mr. Joey de Leon and comic DJ Mr. Fu.
Wow Meganon?! infuses additional fun with some disaster stunts in "Calamity Fun." Kids and kids-at-heart will have fun while learning in "Kiddie Kiddie Power" with Talentadong Pinoy Hall of Famer Wanlu and his smart puppet Nicolo.
Meanwhile, Jeffrey Tam leaves everyone thinking while he performs magic tricks on passersby in the city. Filipinos have also found a new favorite with Doray, a child-like wanderer who strolls around the metro to teach viewers how to count, but with some odd visual-aids like pimples or white hairs instead of apples and oranges.
Give your tears a break and just laugh till you drop in Wow Meganon?!, Monday to Friday, 9:00-9:30 pm on TV5.