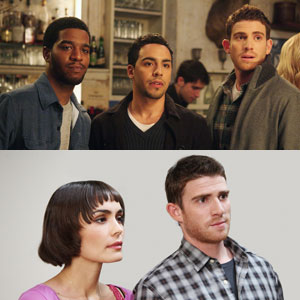 ---
HBO presents a brand-new comedy series that follows two enterprising Brooklyn twenty-somethings as they hustle their way through New York City, determined to achieve the American Dream. The eight half-hour episode season of How to Make It in America premieres with two back-to-back episodes on Monday, October 11, 9:00 pm on HBO / HBO HD.
Bryan Greenberg (Prime, HBO's Unscripted) and Victor Rasuk (Lords of Dogtown, Raising Victor Vargas) star as Ben Epstein and Cam Calderon, respectively. Trying to make a name for themselves in New York's competitive fashion scene, the two friends and business partners use their street knowledge and connections to bring their ambitions to fruition.


With the help of Cam's cousin Rene, played by Luis Guzman (Yes Man, HBO's OZ), who is trying to market his own high-energy drink, and their well-connected friend Domingo, played by hit recording artist Scott "Kid Cudi" Mescudi (Day and Night, Poke Her Face), the burgeoning entrepreneurs set out to make it big, encountering obstacles along the way that will require all their ingenuity to overcome.
Shot on location in New York and executive produced by Mark Wahlberg and Stephen Levinson (both executive producers of HBO's Entourage) How to Make It in America also stars Lake Bell (Boston Legal, What Happens in Vegas) as Ben's ex-girlfriend Rachel, who is concentrating on her own career and a new relationship; Martha Plimpton (Beautiful Girls, 200 Cigarettes) as Rachel's boss Edie, an eccentric interior designer; Shannyn Sossamon (40 Days and 40 Nights, The Holiday) as Gingy, Ben and Cam's artsy friend; and Eddie Kaye Thomas (Nick and Norah's Infinite Playlist, American Pie) as David Kaplan, a successful hedge fund manager and high school friend of Ben's.
How to Make It in America kicks off two-back-to-back half-hour episodes on Monday, October 11, at 9:00 pm on HBO / HBO HD. Two new episodes of this eight episode series will air weekly at the same time.
ADVERTISEMENT - CONTINUE READING BELOW